Gemayel urges massive participation in March 13 rally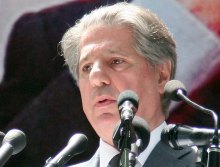 Former Lebanese president and current Phalange Party leader Amin Gemayel urged the Lebanese people on Monday to take part in March 14's Sunday rally."We strongly urge all March 14 supporters to participate in the Sunday ( March 13 ) rally in Martyrs Square," he said during a press conference.
"We are protesting on Sunday to say: no weapons, no threats will scare us or stop us from stating our positions or opinions," said Gemayel from the Phalange Pary Headquarters in Saifi. He added that the March 14 alliance is still confronting the "creeping coup that hides behind the weapons of Hezbollah."
He added : "The rally on March 13 is aimed at informing the East and the West that the Lebanese people are always thirsty for freedom. They haven't and won't despair, they haven't and won't surrender."
Gemayel stressed during his press conference: "We will confront the coup that is demonstrated by Hezbollah's arms … We will never let the blood of the Cedar Revolution martyrs go in vain."
Gemayel added: "The coup is aimed at establishing a one-sided political system, eliminating justice, and abandoning the memory of our martyrs, and we will never accept any of this."
He added: "The resistance cannot be real and nationalistic unless it cooperates with all sides and operates under the state's authority. "
Gemayel accused the Hezbollah-led alliance of " adopting methods that are the farthest from democracy"
Gemayel also said that his party is committed to the Special Tribunal for Lebanon and called for respecting all UN Security Council resolutions.
"There can be no backing down from international justice as a state cannot be established without granting justice where it is owed," Gemayel stressed
Gemayel commented on the March 14 's alliance structure,by saying that the alliance has been asked to reorganize itself in order to confront the upcoming events
"The Phalange party proposed the restructuring of the March 14 coalition and to form a general council which will include the March 14 parties and NGOs," he said.
March 14 marks the 6th anniversary of the Cedar revolution when over 1 million Lebanese gathered in downtown Beirut to protest against the murder of the the late PM Rafik Hariri and called on Syrian troops to leave Lebanon. The Syrian troops withdrew in April 2005
March 14 coalition was named after the anniversary of the Cedar Revolution
Outgoing PM Saad Hariri said today in a statement that the ceremony will take place on Sunday March 13 ( ( instead of March 14)) because "we are not disruptive people, it is not in the people's or country's interests [to disrupt a working day],"