Looting of antiquities in Egypt on the rise, report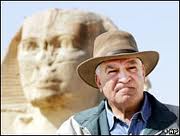 Egypt's minister of antiquities has threatened to resign amid increasing reports of looting at the country's many ancient historical sites.
Some archaeologists say they fear the departure of Zahi Hawass could lead to further damage to Egypt's immense cultural heritage, AAAS ScienceMag.org reported Friday.
Hawass released a statement of his intention following the appointment Thursday of a new prime minister, Essam Sharaf, a U.S.-educated civil engineer, to administer the country during its transition from ousted President Hosni Mubarak to a new government.
Mubarak named Hawass to the new position of antiquities minister in January.
In his statement, Hawass said his disappointment at the lack of police protection at ancient sites and monuments was the reason he would not serve in the new Cabinet Sharaf is organizing.
"The antiquities guards and security forces at sites are unarmed and this makes them easy targets for armed looters," he wrote. "The situation looks very difficult today and we are trying our best to ensure the police and army restore full protection to the cultural heritage of the country."
Western archaeologists credit Hawass with boosting the quality of research, increasing participation of a younger generation and securing greater revenues for site protection.
Some Western researchers are doing ongoing work in Egypt, despite the looting and the government upheaval.
"Everything is OK here," says Mark Lehner, a Massachusetts archaeologist digging at a settlement site in Giza.
"We're working regularly, and we're also grateful that the work we're doing doesn't produce objects" with value on the antiquities market, he said.
UPI