Massive Blast Tears Through Libyan Rebel Base
A massive explosion at a rebel-held military base in eastern Libya killed at least 16 people and wounded as many as 50 on Friday.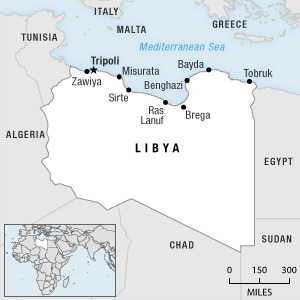 That came as rebels clashed with troops loyal to Moammar Gadhafi in cities on both sides of the country. And in the capital, Tripoli, security forces fired tear gas at anti-government protesters.
Shortly after the huge explosion, NPR's Peter Kenyon visited the Rajma military base, 12 miles from the rebel stronghold of Benghazi. He described "a scene of utter devastation."
"The explosive damage was truly remarkable," he said. Ambulances were streaming into the base, and body parts were spread around the explosion.
Hospital officials said the initial toll from the explosion and fire was 16 killed and 40 to 50 wounded, but medical officials expected that to rise.
Kenyon said that the base contained a large weapons depot and that it was unclear what caused the explosion.
Meanwhile, dozens of rebels moved artillery and mortars into the eastern town of Ras Lanuf, the site of a major oil refinery, on Friday, where they engaged government forces.
"There are conflicting accounts of what the outcome [of the battle] is and it may be some time before we know precisely," Kenyon said.
he opposition had briefly held Ras Lanuf last week before regime loyalists recaptured the town. Friday's offensive to wrest it back signals that the "momentum is with the anti-Gadhafi forces," Kenyon said.
But he cautioned that the fighting in Ras Lanuf was still far from the capital, and that the stronghold of Sirte — Gadhafi's hometown — still lies between the rebels' current position and the regime's seat of power.
Rebel Commander Reportedly Killed
As the battle raged in the east, a large force from a brigade led by Gadhafi's son Khamis launched an assault on the western city of Zawiya, just 30 miles from Tripoli. A resident told The Associated Press that troops from the Khamis Brigade attacked with mortars, heavy machine guns and automatic weapons.
"Our men are fighting back the force, which is big," the resident said. Zawiya's fighters have beaten back several attacks in the past two weeks by Gadhafi forces trying to recapture the city.
The commander of the rebel forces — Hussein Darbouk, a colonel in Gadhafi's army who defected — was shot to death by fire from an anti-aircraft gun, and at least three other rebel fighters were killed in the battle, according to AP reports that cited an opposition activist in the city.
The news agency quoted one unnamed witness as saying 18 people had been killed and 120 wounded in the fighting, though the number could not be confirmed.
Pro-Gadhafi forces also pounded the outskirts of rebel-held Misrata overnight, firing mortars and anti-aircraft guns, a doctor in the city said, adding that it appeared to be an intimidation tactic, causing no casualties.
In Tripoli, Protesters 'Threatened With Death'
Witnesses in the capital told The Associated Press that regime troops struck as scores of protesters ended Friday prayers and streamed from the Murad Agha mosque in Tripoli's Tajoura district into a nearby square, chanting anti-government slogans and waving a version of the Libyan flag symbolizing pre-Gadhafi rule.
Protesters tore down posters of the Libyan leader, replacing them with the flags. They spray-painted walls with graffiti reading, "Down with Gadhafi."
Security forces initially responded with tear gas but switched to live ammunition, witnesses said. It was not clear whether they fired at the crowd or into the air, but the protesters scattered, many of them taking refuge back in the mosque, according to an AP reporter at the scene.
A doctor said several people were wounded and taken to a nearby hospital.
"All these people are threatened with death," said a 35-year-old man who was among the demonstrators in Tajoura. "We have no education, no economy, no infrastructure. … We want nothing but the end of the regime. We were born free but he is suppressing us."
Internet services, which have been spotty throughout Libya's upheaval, appeared to be halted completely in Tripoli
Similar protests a week ago in the capital met a brutal crackdown, when militiamen opened fire on demonstrators moments after they began their marches. The number of dead is still unknown.
Effectiveness Of Rebel Force In Question
Hundreds of miles to the east, rebels in the Mediterranean port of Brega were hastily training volunteers to use weapons in anticipation of an attack by government troops. The opposition managed to repel a major regime offensive earlier this week in the city, which is the site of one of Africa's biggest oil refineries.
"I would call it a desperate emergency effort to try and train very untrained individuals for military action that could come at any moment," NPR's Kenyon said. He added that it wasn't clear how the raw recruits would fare during a sustained attack by government forces.
Gadhafi's forces have been unable to take back swaths of eastern Libya in opposition control, while the rebel forces — backed by mutinous army units — seemed unable to launch a concerted offensive to topple the regime.
"Certainly, this ragtag army … insists that it's still prepared to liberate the entire country. The difficult part is finding someone with an actual plan for doing that," Kenyon said.
The eastern-based rebels hope that people in areas such as Tripoli that remain under Gadhafi's grip will rise up. Friday's protests in the capital could be a significant test of whether the opposition can keep applying pressure on the government in the face of violent suppression.
Interpol Takes Action Against Gadhafi
Interpol issued an international alert for Gadhafi and 15 other family members and close associates Friday to help enforce international sanctions against the Libyan strongman and his regime.
The international police organization said Gadhafi, his relatives and allies "have been identified as being involved in or complicit in planning attacks, including aerial bombardments, on civilian populations."
Interpol issues the orange notice when an act or event poses a risk to public safety. The alert is sent to Interpol's 188 members around the world, giving law enforcement and border police information on the targeted individuals that can be used to block their movements and freeze their assets.
The U.N. Security Council has imposed a global asset freeze on Gadhafi, his four sons and one daughter, and established a travel ban on the whole family along with 10 other close associates. The council also backed an arms embargo and referred the Libyan government's bloody attacks on protesters to a war crimes tribunal for investigation into possible crimes against humanity.
Part of an upheaval across the Arab world, the Libyan uprising has pitted anti-government protesters against Gadhafi, who has ruled Libya with an iron fist for four decades. Gadhafi has unleashed a violent crackdown against those seeking his ouster, drawing international condemnation.
Flow Of People Into Tunisia Slows
Thousands of people have fled the bloodshed and turmoil in Libya and crossed into neighboring Tunisia and Egypt, according to human-rights groups.
But NPR's David Greene reported from the Tunisian border that the flow of people seems to have slowed. He said most of the refugees he interviewed as they arrived on Tunisian soil described harrowing incidents of harassment at checkpoints manned by Libyan soldiers.
"There are heavily armed border guards at one checkpoint after another who are intimidating them —demanding that they show their passports, demanding that they give up their mobile phones, give up their camera memory cards," Greene said.
Rights groups estimate that more 200,000 people have fled into Tunisia, Egypt and Niger since Feb. 15, when Libya's uprising against Gadhafi's iron-fisted rule began.
Greene said the number has slowed considerably in recent days, an observation confirmed by the U.N. refugee agency. Refugees in Tunisia who have been able to call back to Libya report that people there are increasingly afraid to leave.
"If [the Libyan] military control of the border and roads reduces, a huge exodus of people could resume," UNHCR spokeswoman Melissa Fleming told reporters in Geneva.
U.N. satellites were monitoring the exodus. An estimated 15,000 to 18,000 people were still in transit camps in Tunisia. The U.N. plans to establish a second camp in Tunisia, like Ras Adjir, close to the Tunisian-Libyan border.
British, French and U.N. planes were taking turns getting Egyptian workers from Tunisia back to Cairo. France was preparing to evacuate 5,000 Egyptians who arrived in Tunisia.
Protests In Yemen Turn Deadly
In Yemen, soldiers opened fire at anti-government protesters in the northern town of Harf Sofyan, killing four people and wounding seven on a day dubbed the "Friday of the national cohesion." Witnesses told the AP that the shootings occurred as soldiers tried to disperse thousands of people gathered for Friday prayers.
Thousands of protesters also assembled amid tight security near Sanaa University in the capital to call for President Ali Abdullah Saleh's ouster. Meanwhile, thousands of government supporters staged counterdemonstrations in Sanaa, urging the opposition to respond to Saleh's call for dialogue.
Egyptians Urged to Focus On 'Rebuilding'
Egypt's prime minister-designate, Essam Sharaf, appeared before thousands of demonstrators in central Cairo and promised to try to meet their demands for political change.
Sharaf pleaded with protesters to turn their attention to "rebuilding" the country. His government will serve in a caretaker capacity until parliamentary elections are held.
The Supreme Armed Forces Council, which took control of the country from ousted President Hosni Mubarak, has said a referendum on constitutional changes to allow for competitive parliamentary and presidential elections will be held March 19. NPR