Hariri: Time to protect the resistance is over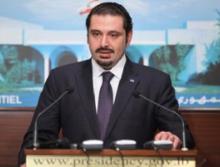 Outgoing Prime Minister Saad Hariri said in remarks published on Friday that it is no longer possible to protect the Resistance when its "weapons have turned to point at the Lebanese."
"Every Lebanese is wondering if it is possible to live in Lebanon in the shadow of a group Hezbollah that keeps carrying weapons and using them in its interest when the need calls," he told An-Nahar newspaper.
Snapping back at officials who claim that the arms belong to the resistance, Hariri said: "We are all resistors…. True resistance is based on the people, its will and its perseverance, and also on the Lebanese state."
"At any time when I am prime minister again, I will hold fast to the state alone. The state is what fights Israel. This is my basic conviction, even if I bargained with the other side to protect the country."
Hariri also said he had not "swept the issue under the rug" during his tenure because "the subject of weapons was put in the national dialogue for discussion."
"I did not surrender this as some say, but I tried in every sense of the word to work for a national unity government […] built on reconciliation and true partnership."
"The other side did nothing to help this partnership succeed. They thought that what we were doing was motivated by fear, not conviction. Over the past five years they tried to eliminate me," he said.
"I tried everything. I went to Syria, and I went to Iran and I did what true partnership required, while the other side did nothing."
"When you build a nation with a partner, you do not do it with bad intentions, but you try to build it honestly with true partnership. If you are stabbed in the back and they are always waiting for you around the bend – you are stabbing yourself with this knife."
Asked why he didn't blame Syria for allegedly toppling his government in his latest speeches, the caretaker premier said he sought to consolidate the state-to-state relations between the two countries.
"I didn't want the improvement made in the ties to go backwards," Hariri added.
The Iranian- and Syrian-backed Hezbollah brought down PM Saad Hariri's government on January 12 over the Special Tribunal for Lebanon's imminent indictment which is widely expected to implicate Hezbollah members in the assassination of former PM Rafik Hariri in 2005 .
Mikati, who was backed by Hezbollah and its March 8 allies including MP Walid Jumblatt and Mohammad Safadi, was appointed on January 25 by president Michel Suleiman as PM-designate to form and head the next cabinet , giving Hezbollah and its allies increased leverage in the country and provoking widespread protest.
Jumblatt and his PSP parliament members reportedly switched allegiance to Hezbollah's PM candidate, following threats by Hezbollah.
Jumblatt, Mikati and Safadi were all elected on March 14 electoral tickets during the 2009 parliamentary elections
Last month U.S. Secretary of State Hilary Clinton accused Hezbollah of hijacking Lebanon's democracy.
The Lebanese "deserve to have their democracy respected and their voices heard, and not have one element of their society using the threat of force and the potential of violence to try to achieve political ends," she said.