Cabinet may see the late around mid March, report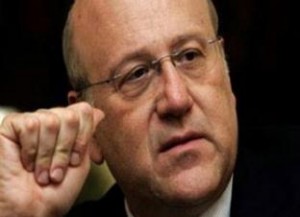 Well-informed sources reportedly told OTV that Lebanese PM Designate Nagib Mikati is conducting intensive contacts away from the spotlight and the coming week will witness important meetings which will lead to finalizing the new cabinet's formula. The new government may see light in the second half of March.
The Iranian- and Syrian-backed Hezbollah brought down PM Saad Hariri's government on January 12 over the Special Tribunal for Lebanon's imminent indictment which is widely expected to implicate Hezbollah members in the assassination of former PM Rafik Hariri in 2005 .
Mikati, who was backed by Hezbollah and its March 8 allies including MP Walid Jumblatt and Mohammad Safadi, was appointed on January 25 by president Michel Suleiman as PM-designate to form and head the next cabinet , giving Hezbollah and its allies increased leverage in the country and provoking widespread protest.
Jumblatt and his PSP parliament members reportedly switched allegiance to Hezbollah's PM candidate, following threats by Hezbollah.
Jumblatt, Mikati and Safadi were all elected on March 14 electoral tickets during the 2009 parliamentary elections
Last month U.S. Secretary of State Hilary Clinton accused Hezbollah of hijacking Lebanon's democracy.
The Lebanese "deserve to have their democracy respected and their voices heard, and not have one element of their society using the threat of force and the potential of violence to try to achieve political ends," she said.
March 14 alliance has officially informed Mikati that it is not interested in participating in his government .