Aridi defies sanctions against Iran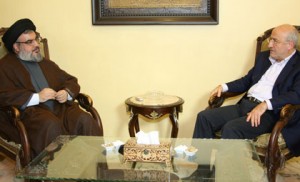 Caretaker Transport and Public Works Minister Ghazi Aridi asked fuel suppliers at Beirut's Rafik Hariri International Airport to disregard international sanctions against Iran, according to local reports
The reports says that Aridi's step came after he received a phone call from Iranian Ambassador to Lebanon Ghadanfar Roken Abadi about the matter.
Abadi told Aridi that due to UN Security Council Resolution 1929, Iranian planes would not be able to refuel at a number of international airports, including the one in Beirut.
Aridi assured the ambassador that he would handle the matter and, upon investigation, was told by the airport's refueling companies that they intended to comply with the sanctions because they do business globally and do not want to violate UN sanctions.
According to the report, Aridi then formally asked that the companies disregard the resolution and continue to refuel Iranian airplanes.
The minister justified his recommendation by saying that he refuses to "concede national sovereignty to an American resolution issued by the Security Council," the report said.
Resolution 1929, which was passed in June 2010, prevents Iran from investing in "sensitive activities," such as uranium mining. It also stops Tehran from buying heavy military equipment, especially tanks, and allows for the search of Iranian vessels at sea.
Aridi is a member of the progressive Socialist Party which is headed by MP Walid Jumblatt.
Jumblatt, who used to be very critical of Iran and its support for Hezbollah switched allegiance last January and is now a big supporter of Hezbollah and its backers , Iran and Syria.
According to observers Aridi's action could cost Lebanon dearly