Obama: Gaddafi lost all legitimacy, must leave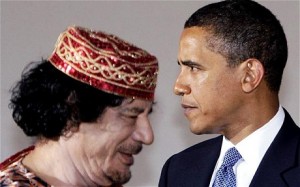 US President Barack Obama insisted Thursday that Libyan leader Moammar Gadhafi leave office, declaring he had lost his authority to lead. Obama also announced that U.S. military aircraft would play a humanitarian role by flying Egyptians who had fled Libya home to Egypt from makeshift camps in Tunisia.
"Moammar Gadhafi has lost the legitimacy to lead and he must leave," Obama declared at a White House news conference with Mexican President Felipe Calderon.
Obama offered his most extensive remarks on the Libya crisis on a day when rebels strengthened their hold on the strategic oil installation at Brega after repelling an attempt by Gadhafi loyalists to retake it.
Pledging to hold Gadhafi and his loyalists accountable, Obama said the U.S. and the entire world were outraged by violence against the rebels. And he lauded U.N. sanctions meant to put international pressure on Gadhafi to give up power. ABC