Libya revolt may solve mystery of Lebanese cleric's fate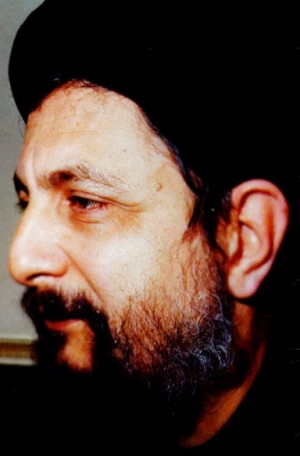 The crumbling of Moammar Gadhafi's regime could shed light on one of the most enduring mysteries in Lebanon: the fate of Moussa al-Sadr, a popular Shiite cleric who vanished 33 years ago during a trip to Libya.
Since the uprising began, members of Libya's opposition have broken a three-decade silence on the issue, with some saying the 82-year-old cleric is languishing in a Libyan prison.
But another account came from a regime insider, Maj. Abdel-Moneim al-Houni, after he turned against the regime last week.
He says he believes al-Sadr was killed on Gadhafi's orders and buried in the remote town of Sabha, in southern Libya.
Al-Sadr's wide Shiite following in Lebanon is hoping the truth will finally emerge as Gadhafi's grip on power weakens.
"After Gadhafi's stonewalling and lying for 33 years, there is at last a hope that the imam and his companions are freed, and that the truth emerges," Chibli Mallat, the al-Sadr family lawyer, told The Associated Press.
The charismatic al-Sadr was one of the pioneers of Shiite empowerment. In 1975, he founded Amal, the first major militia and political force for Lebanon's Shiites, who historically were under the thumb of Christians and Sunnis. His disappearance had fueled a deep animosity between Libya and the Lebanese government and has been a burning issue for Lebanon's 1.5 million strong Shiite community.
An impressive figure – well over six feet (1.8 meters) tall – the Iranian-born cleric wore the black turban of a descendant of the Prophet Muhammad and was a skilled orator, with an accent reflecting his Iranian past. Regarded as a moderate, he urged cooperation with other faiths.
In 1978, al-Sadr and two companions – Sheik Mohammed Yacoub and journalist Abbas Badreddine – flew to Tripoli for a week of talks with Libyan officials. They were never seen or heard from again.
The day he was last seen, on Aug. 31, 1978, is still marked annually in Lebanon.
Libya insists al-Sadr and his aides left on a flight to Rome at the end of their visit and suggests the imam fell victim to an inter-Shiite power struggle.
Many Lebanese believe Gadhafi ordered the three Shiites killed after a feud over money stemming from the Libyan leader's funding of militias during Lebanon's 1975-90 civil war. Some – including in his family – cling to hope that he remains alive, in prison. Al-Sadr would be 82 years old now.
In August 2008, a Lebanese prosecutor indicted Gadhafi in absentia with "incitement to kidnap and withhold the freedom" of the imam. The trial has yet to begin.
Since the start of the Libyan uprising two weeks ago, fresh posters of al-Sadr have popped up across Shiite Muslim dominated areas of the country.
Al-Houni, a former member of the top leadership and Libya's ambassador to the Arab League until he broke with Gadhafi, gave his account in an interview he gave last week with the Arab daily Al-Hayat. He told the paper that his own brother-in-law, Nijmeddin al-Yazji, was the pilot of Gadhafi's private jet and that al-Yazji was killed soon after al-Sadr's disappearance.
"Family members say his assassination was related to al-Sadr, that he was the one tasked with transporting al-Sadr's body to be buried in Sabha … and that's what pushed Libyan agencies to kill (al-Yazji) to hide the crime," al-Houni said. He could not be reached to elaborate.
But Hassan Yacoub, a Lebanese politician and son of Sheik Mohammed Yacoub who went missing with the cleric, said all the information he has received in the past 33 years indicate the three are still alive.
"We are very, very close to the end of the ordeal," he said.
Others members of the Libyan opposition, including Libyan officers, have been reported in Arab media in recent days saying the cleric was seen alive in a Libyan jail.
One Libyan dissident in exile told The Associated Press he has gotten conflicting information from Libyan prisoners freed in past years – some report seeing the cleric, others say he was killed along with his colleagues. He spoke on condition of anonymity to discuss the subject.
The al-Sadr family strongly believes the imam is alive.
"We have believed for years that Imam Moussa Sadr has been alive and we hope that the new situation in Libya will result in his freedom," said Houra al-Sadr, al-Sadr's daughter from Tehran where she lives. Her comments were carried by Iran's ISNA news agency last week.
His son, Sadreddine al-Sadr, and sister, Rabab, declined to comment when contacted by AP. Sources close to the family said they did not wish to inflame the situation in case the imam was still alive.
Mallat, the family lawyer and a visiting professor at Harvard Law School, said only a proper investigation with Gadhafi and his aides will allow the families to know what really happened.
Despite the years, al-Sadr is still seen here as a symbol for a Shiite community that in 40 years has gone from a downtrodden, impoverished sect to a major political player. Shiite empowerment is a force across the Middle East, spurred by the 1979 Islamic revolution in Shiite Iran and more recently by the rise to leadership of Iraq's majority Shiites after U.S. forces ousted Saddam Hussein and his Sunni Muslim-dominated regime.
Born in the Iranian holy city of Qom, al-Sadr came to Lebanon in 1959 to work for the rights of Shiites in the southern city of Tyre. In 1974, a year before Lebanon's 15-year civil war broke out, he founded the Movement of the Deprived, attracting thousands of followers.
In 1975, he founded Amal. It was the first popular movement for Shiites, who at the time were represented politically by feudal Shiite landowners who cared little for their peasant underlings.
Today, the Shiites are Lebanon's largest sect, with an estimated 1.2 million of the 4 million population, led by the Iranian-backed Hezbollah, allied to Amal.
On Monday and Tuesday, a few hundred protesters waving al-Sadr's pictures staged a protest in downtown Beirut, convinced he is alive and demanding his release. "The people want to free the imam!" they shouted.
WP