Iran opposition: 79 arrested in protests
Iran's opposition said at least 79 people were arrested at protest rallies on Tuesday that the government denied had taken place at all.
Authorities have deployed large numbers of security forces to prevent any repeat of the massive unrest that followed hardline President Mahmoud Ahmadinejad's 2009 re-election, and on Wednesday state media made no mention of Tuesday's rallies.
Opposition websites said thousands of people demonstrated in Tehran and other cities to demand the release of "Green movement" leaders Mirhossein Mousavi and Mehdi Karoubi who they believe were taken from their homes last week and jailed.
Prosecutor-General Gholamhossein Mohseni-Ejei denied the arrests, saying both men were still in their homes but were being prevented from communicating with the outside world.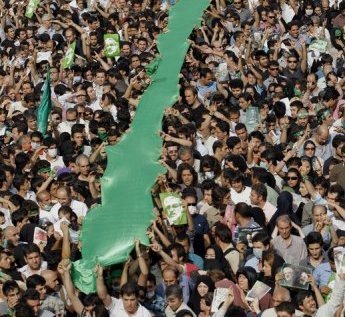 According to opposition website Sahamnews, at least 79 people were arrested on Tuesday. Sites said some 1,500 were arrested on February 14 during the Green movement's first rally in more than a year, which was called to show support for pro-democracy uprisings in North Africa.
The police said "dozens" of people were arrested on February 14, and a parliamentary committee set up to investigate the events said only small groups of trouble-makers turned up.
Talking of events on Tuesday, Tehran prosecutor Abbas Jafari Dolatabadi told reporters: "A limited number of people, influenced by anti-revolutionary groups, were intending to do something."
"No specific incident happened on Tuesday in Tehran," he said, according to the semi-official Fars news agency. Dolatabadi declined to give the number of arrests.
PRETEXT
Despite the official line that there has been no significant resurgence of the Green movement, which the government considers to be a seditious plot guided by its Western foes, parliament has called for Mousavi and Karoubi to be tried and hanged.
Two people were shot dead on February 14, deaths that each side has blamed on the other.
The parliamentary report, issued on Wednesday, accused Mousavi and Karoubi of staging the February 14 rally at the encouragement of U.S., British and Israeli intelligence.
"Foreign intelligence services had contacts with the sedition leaders urging them to call for a rally in support of popular uprising in Egypt and Tunisia … as a pretext to create tension in the country," said the report, according to the official IRNA news agency.
Opposition leaders deny such accusations.
Iranian government leaders have hailed uprisings in several Arab states as part of an "Islamic awakening" inspired by the 1979 revolution which ousted the Western-backed Shah.
Analysts outside Iran say the uprisings have been overwhelmingly secular, not religious, in nature.
The Iranian opposition took those pro-democracy protests as inspiration to stage its own first significant show of vitality since December 2009 street protests, which were crushed by the elite Revolutionary Guards.
Mousavi and Karoubi — reformists who lost to Ahmadinejad in the June 2009 election — were held in their homes, incommunicado, after they called for the rally. Authorities warned such "illegal" gatherings would not be tolerated.
Opposition website Kaleme said it believed Mousavi and Karoubi and their wives were secretly whisked from their homes last Thursday and taken to Heshmatiyeh prison in Tehran.
The authorities' reluctance to confirm their whereabouts shows the sensitivity of taking aggressive action against men who remain rallying points for opposition to Ahmadinejad.