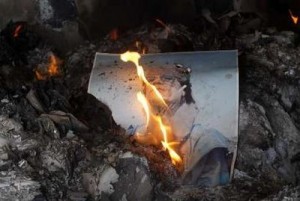 Moammar Gadhafi's forces struck back at his opponents on three fronts Monday, with special operations forces, regular army troops and, rebels said, fighter jets, in an escalation of hostilities that brought Libya a step closer to civil war.
But the rebels dismissed the attacks as ineffectual, and Gadhafi faced a growing international campaign to force him from power, as the Obama administration announced it had seized $30 billion in Libyan assets and the European Union adopted an arms embargo and other sanctions.
As the Pentagon began repositioning Navy warships to support a possible humanitarian or military intervention, Secretary of State Hillary Rodham Clinton told the Libyan leader to surrender power "now, without further violence or delay."
The attacks by the colonel's troops on an oil refinery in central Libya and on cities on either side of the country unsettled rebel leaders — who have maintained that they are close to liberating the country — and showed that despite defections by the military, the government may still possess powerful assets, including fighter pilots willing to bomb Libyan cities.
Rebel leaders said the attacks smacked of desperation, and the ease with which at least one assault, on the western city of Zawiyah, was repelled raised questions about the ability of the government to muster a serious challenge to the rebels' growing power.
In an interview with ABC News, Gadhafi said he was fighting against "terrorists," and he accused the West of seeking to "occupy Libya." He gave no hint of surrender.
"My people love me," he said. "They would die for me."
Those unyielding words, and the attacks Monday, were met with both nerves and defiance by rebel military leaders as the two sides seemed to steel themselves for a long battle along shifting and ever more violent front lines.
Libya seemed to be brewing a major humanitarian crisis as tens of thousands of mostly impoverished contract workers tried desperately to flee to its neighbors, Tunisia to the west and Egypt to the east. The U.N.'s refugee agency called the situation a humanitarian emergency as workers hauling suitcases stood in long lines to leave Libya, many of them uncertain how they would finally get home.
The country they left behind faced similar uncertainty, as warplanes took to the sky for the first time in 10 days, according to military officials allied with the rebels. In a direct challenge to claims by those officials, who have asserted that Libyan air force pilots were no longer taking orders from Gadhafi, two jets conducted bombing raids Monday, according to witnesses and two military officers in Benghazi allied with the anti-government protesters.
Col. Hamed Bilkhair said the jets, two MIG-23s that took off from an air base near Gadhafi's hometown in the city of Surt, struck three targets but were deterred by rebel anti-aircraft fire from striking a fourth at an air base in Benghazi. The jets — a bomber and an escort plane — attacked three other locations, south of Benghazi, and on the outskirts of the eastern city of Ajdabiya.
The colonel, speaking in an interview Monday evening, said government troops were in the midst of shelling Misurata, a breakaway city 130 miles east of the capital.
In Zawiyah, a city with important oil resources just 30 miles from the capital, residents said they rebuffed a series of attacks Monday, suffering no casualties but killing about 10 soldiers and capturing about a dozen others. A government spokesman confirmed the death toll.
"It is perfect news," said A.K. Nasrat, 51, an engineer who is among the rebels, before adding, "There is no way they are going to take this city out of our hands unless we all die first."
The first attack took place shortly after midnight, when some pro-Gadhafi soldiers in pickup trucks tried to pass through the city's eastern gate, Nasrat said. But they were spotted by rebel sentries who defeated them with help from army and police defectors defending the town. Four soldiers were killed and several captured, with some of the captives readily surrendering their arms and switching sides, he said
Then, in the early evening, several witnesses said, the Gadhafi forces — believed to be led by his son Khamis' private militia — attacked from both the east and the west. Three pickup trucks tried to enter the narrow city gates from the west, but a rebel-held artillery unit struck one, blowing it up and overturning a second truck, Nasrat said. Six more pickup trucks tried to breach the eastern gate, he said, but after an exchange of fire the rebels captured two of the trucks and several of the soldiers.
"So about 12 or 14 soldiers were hostages," he said, "and eight of them turned over their arms and joined the people. They are on our side now."
At about 11 p.m. residents of Zawiyah reported in telephone interviews that they heard a renewed outbreak of gunfire from the west lasting five to 15 minutes.
For days, military leaders in Benghazi have said they were preparing to assemble a force of thousands for a final assault on Tripoli; some of the officials have even promised to send planes to bomb Gadhafi's fortified compound, Bab al-Aziziya.
But there are few signs that a plan has materialized, though military leaders maintain they are simply waiting for the right time. A fighter pilot sympathetic to the anti-government protesters, Mohammed Miftah Dinali, expressed some frustration that he had not yet been called on to aid the rebel effort.
"My friends and I are willing to go and do an airstrike on Gadhafi's compound," he said. "I cannot just sit and watch this happen."
New York Times