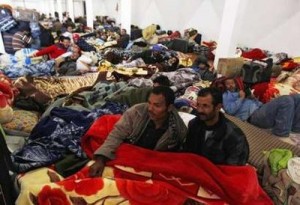 Tens of thousands of people are continuing to flee the violence in Libya, and the United Nations refugee agency says the situation on the Libya-Tunisian border is reaching crisis point.
Vast numbers of people, mostly migrant workers, have fled Libya since an uprising against the four-decade rule of Moamar Gaddafi led to a violent crackdown by his security forces.
The agency says 14,000 people made it across the border on Monday – the highest number so far in a single day.
Once in Tunisia, they join thousands more who have been spending chilly nights sleeping out on the tarmac around the border post, waiting for transport to take them away.
Transit camps are being set up further down the road and special flights laid on.
But the efforts of the local authorities and the international community are being outpaced by the situation on the ground as thousands more pour in across the border.
At Ras Jdir, Tunisian border guards fired into the air to try to control a crowd of people clamouring to get through a crossing.
The crowd was pressed up against a concrete wall dividing the no-man's land between the Libyan and Tunisian border posts. At intervals, Tunisian border guards would open a blue metal gate to let a small group through.
But some people were throwing their bags over the wall and trying to climb over, prompting border guards first to hit them with sticks and then fire repeatedly into the air.
An agency reporter saw at least three people being taken out of the crowd by medical teams from the Red Crescent after fainting in the crush of bodies, and volunteers threw bottles of water over the wall into the crowd.
The UN's refugee agency extended its camp near the border overnight, erecting tents with a capacity to accommodate 10,000 people, a UNHCR official said.
The organisation was preparing to put in more tents to increase the camp's capacity to 20,000.
"Water and sanitation is a major issue, toilets are our next big headache," Hovig Etyemezian, senior protection officer for UNHCR said at the camp, where 500 white tents went up overnight, each capable of holding up to 10 people.
Meanwhile, at the border town of Wazir, just across the Libyan frontier, there is no evidence of pro-Gaddafi forces being in control.
Nalut, 28km away, is now in the hands of the opposition. But reports from within Nalut say that there is significant anxiety that troops loyal to Moamar Gaddafi will launch an offensive to retake the town at any time. ABC