By Weedah Hamzah and Aya Batrawy
While much of the Arab world continues to see thousands of people taking to the streets with calls for political change, a 'Day of Rage' planned in Syria this month drew only a few dozen protesters.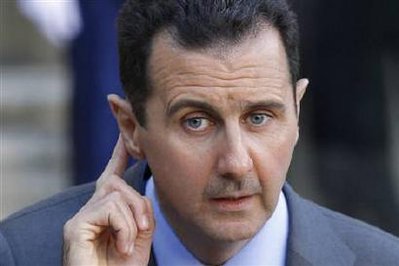 Hundreds of Syrians did later demonstrate, but to demand an investigation into the alleged police beating of a young man in the capital Damascus – not to seek the toppling of the government, as protesters have successfully done in Tunisia and Egypt.
Government officials attribute the lack of upheaval to President Bashar al-Assad's popularity.
'Such protests are useless in Syria because the president is not hated as much as Hosny Mubarak in Egypt. Our president has started to make reforms a few years ago,' a Syrian source loyal to the president told the German Press Agency DPA.
But rights groups and activists blame the low turnout on an internet crackdown initiated by the government.
One Syrian activist, who spoke to DPA on condition of anonymity due to security concerns, said that a number of bloggers have been detained recently in an attempt to stop people from using the internet to share information and organize protests.
Among them was blogger Ahmad Hadifa, better known as Ahmad Abu al- Kheir, who the source said was arrested by Syrian security officers – and interrogated by military intelligence officials – for posting advice on how to circumvent online censorship and demanding the release of political prisoners in Syria.
Abu al-Kheir was released nearly a week after his arrest.
The detentions of the bloggers come within weeks of Syria allowing access to social networking websites it had blocked since 2007, although many websites are still unavailable and internet activity is closely monitored.
The situation led the US State Department to 'strongly condemn the arrests by the Syrian government,' saying that such actions contradict Damascus' recent efforts to lift restrictions on access to social media.
The organization Reporters Without Borders accused Syria of treating online activists as enemies because of their ability to use the internet to potentially organize protests.
It also deplored the fact that there has been no information available about three Syrian bloggers who were arrested in 2010 and earlier this year.
'The authorities provide no information about the legal grounds for these arrests and or the subsequent place of detention. This complete lack of transparency does not bode well,' the group said in a statement.
One of the most notable arrests has been that of 20-year-old Tal el-Melouhy, who this month was sentenced to five years in prison for disclosing information to a foreign country.
At the time of her arrest, in 2009, el-Melouhy was a student and active blogger, writing articles supporting the Palestinian cause and criticizing the French initiative for peace between Israel and Syria.
The detention of bloggers 'effectively puts an end to all hopes for an open and free internet in Syria after Facebook, YouTube and Blogspot were recently unblocked,' said a statement on the activist website all4Syria.
But dissidents quoted on the website also attributed the inability of Syrians to mobilize to 'old-fashioned intelligence: people spying on their neighbours and reporting subversive conversations they overhear in cafes to intelligence services.'
The omnipresent, larger-than-life photos of Assad, who took power after the death of his father, serve as a continued reminder for Syrians of the government's watchful eye on anti-government activity.
DPA