Lebanese flee Libya, urge government to help evacuate fellow citizens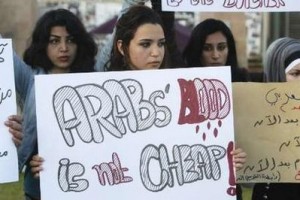 Eighteen Lebanese nationals arrived at Beirut's Rafik Hariri International Airport from Libya, the National News Agency reported on Sunday, adding that they came through Jordan. The Lebanese urged Beirut authorities to facilitate the evacuation of other Lebanese citizens there.
"The situation of the Lebanese there is tragic," said Mustafa al-Hassan, 50, upon arriving at Rafik Hariri international airport. He accused head of the Lebanese diplomatic mission in Libya, Nazih Ashour, of neglect. "We didn't feel he wanted to cooperate with us."
The Lebanese came aboard a Jordanian plane along with several members of their family holding Libyan passports. On Friday, an official at Middle East Airlines, Lebanon's flag carrier, said Libyan authorities had refused to allow one of their planes to land.
The plane was intended to evacuate between 60 and 100 Lebanese nationals stranded at the airport in the Libyan capital.
Another passenger, Iman Hadraj who is married to a Libyan, said: "There are a lot of Lebanese waiting to be transported to Tripoli's airport in order to come to Lebanon."
Tens of thousands of foreigners have so far fled Libya by air, land and sea as world governments scrambled to pull their citizens out amid escalating violence.
Anti-regime protests have erupted in Libya last week after a popular uprising in Tunisia that ousted authoritarian leader Zine al-Abidine Ben Ali and another uprising in Egypt leading to President Hosni Mubarak's resignation earlier in February.