Hariri: No hard feelings towards Jumblatt or his supporters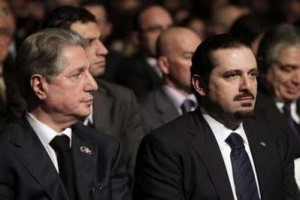 Saad Hariri refused to respond to comments made by Progressive Socialist Party leader MP Walid Jumblatt, who stated on Thursday that Hariri was referring to him and Prime Minister-designate Najib Mikati "when he spoke of betrayal" in his speech on February 14, the sixth anniversary of the assassination of Rafik Hariri.
Hariri's sources told the pan-Arab daily Asharq al-Awsat in remarks published on Saturday that Hariri "will not forget Jumblatt and his supporters' stand after the assassination of former Prime Minister Rafik Hariri in 2005."
They added that this stand was fundamental in the establishment of the March 14 movement, stressing that Jumblatt was never accused of betraying the Hariri family.
"We are in no way seeking to harm Jumblatt's supporters with whom we share a relationship of mutual loyalty and therefore we will not comment on his statements," they added.
"I'm convinced of what I've done since 2009," Jumblat said of his new alliances, including his exit from the March 14 coalition, effectively paving the way for Hezbollah's government takeover.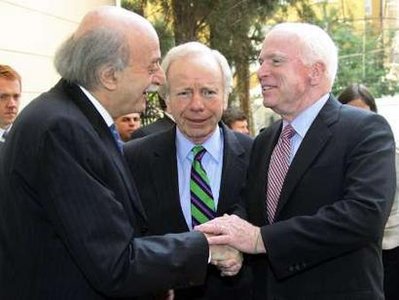 "We engaged in the May 7 adventure following U.S. incitement aimed at cornering Hizbullah after it defeated Israel in 2006, and today the same plot has surfaced again through the STL," Jumblatt noted.
He voiced concerns that the U.S. might try to "financially blockade Lebanon in order to pressure the Lebanese," adding that the visit of U.S. senators Joseph Lieberman and John McCain to Lebanon this week was "part of that pressure."
Addressing the rapid developments in the Arab region, Jumblat said "the Americans will claim to support the popular uprisings sweeping the Arab world, while in Lebanon their scheme is to destroy Hizbullah at any price."
He noted that "U.S. and Egyptian pressures" torpedoed the failed Saudi-Syrian initiative that aimed to find a solution to Lebanon's political crisis.
Jumblat warned that "there's a trap set up for Lebanon by Israel."