Gaddafi would rather go down 'like Hitler' than surrender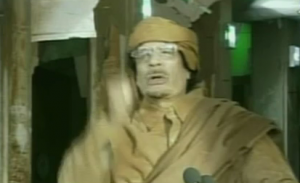 Muammar Gaddafi vowed to "crush any enemy" on Friday, addressing supporters in central Tripoli as Libya's popular uprising closed in around him and Western powers set about punishing him for attacks on his own people.
"We will fight if they want," the 68-year-old leader declared after a day of clashes in parts of the capital between security forces and crowds of protesters, which Gaddafi's opponents said had left some districts in their hands.
With eastern Libya firmly under opposition control after a week of unrest, protesters held the center of Zawiyah, west of the capital, a witness said, and laid makeshift defenses to fend off government forces after successive fierce attacks.
Gaddafi's son Saif al-Islam, talking to foreign journalists flown to Tripoli under escort, acknowledged his forces had "a problem" there and in the city of Misrata, 200 km (120 miles) east of Tripoli. But everywhere else was calm, he said, and talk of state brutality merely "lies" put about by hostile media.
Residents of the capital took a different view. "There have been gunshots non-stop," one woman said, who spoke of a friend seeing people shot down by security forces in the Souk al-Jumaa neighborhood. "She saw them shoot straight at the protesters."
The United States, which in recent years had a rapprochement with Gaddafi, was preparing sanctions and would not rule out military action. "His legitimacy has been reduced to zero in the eyes of his people," said President Barack Obama's spokesman.
The U.N. Security Council also drafted possible sanctions including an arms embargo, travel bans and freezing top officials' assets, and threatened the Libyan leadership with indictments for crimes against humanity.
Western powers, with whom Gaddafi has exploited Libya's oil after years of diplomatic isolation, have struggled to keep up with the pace of protests that have swept away Western-backed strongmen in neighboring Egypt and Tunisia already this year.
Gaddafi's own people seemed close to forcing him from power, although it is hard to assess the relative strengths of forces, which include irregular, tribal loyalists and militias backing Gaddafi and regular army units now gone over to the rebels.
DEFIANCE
Other towns were reported by residents to have fallen to the opposition, although Gaddafi retained the defiance he has often displayed against the West over more than four decades.
"Get ready to fight for Libya, get ready to fight for dignity, get ready to fight for petroleum!" he urged the crowd of thousands in Tripoli's central Green Square, threatening to open military arsenals to his supporters and tribesmen.
"We can crush any enemy. We can crush it with the people's will," he said, shouting and waving his fists.
Residents said parts of Tripoli, apparently the last major stronghold of the man who took over Libya as a young colonel in a 1969 military coup, were already beyond his control.
"I think Tripoli is in uprising," said one man in the city center. "When you go to Green Square you find it full of Gaddafi supporters. In the other areas, they went out after Friday prayers and they are demonstrating against Gaddafi."
"In some areas it was contained and in some other areas they are … firing in the air to try to disperse them."
Al Jazeera television said two people had been killed and several wounded by government forces in heavy shooting in several districts. Another channel, Al Arabiya, said seven people had been killed. Movement for journalists was restricted.
A former ally of Gaddafi has said he would go down "like Hitler" after World War Two rather than surrender.
U.N. High Commissioner for Human Rights Navi Pillay said "thousands" may have been killed or injured by Gaddafi's forces in the uprising, and called for international intervention to protect civilians. One Libyan medical charity was quoted by Al Arabiya as saying 2,000 had died in Benghazi alone.
Washington, having evacuated Americans from Libya after days of difficulties, said it was closing down its embassy. Gaddafi, once branded a "mad dog" by the White House for backing global militants, had in recent years sought cooperation with the West.
Protesters in Zawiyah, an oil refining town on the main coastal highway 50 km (30 miles) west of Tripoli, fought off government forces on several nights, according to witnesses who fled across the Tunisian border at Ras Jdir.
"There are corpses everywhere … It's a war in the true sense of the word," said Akila Jmaa, who crossed into Tunisia on Friday after traveling from the town.
Gaddafi's son Saif al-Islam said government forces were holding back in Zawiyah and Misrata, and hoped to negotiate a peaceful outcome with the "terrorists" by Saturday, though that hope was hard to reconcile with reports from the city.
He said earlier his family had no intention of leaving.
"We have plans A, B and C. Plan A is to live and die in Libya. Plan B is to live and die in Libya. Plan C is to live and die in Libya," he told Turkey's CNN Turk television.
Reuters