Revolutionaries take over Misrata, 2,000 estimated dead since Feb 15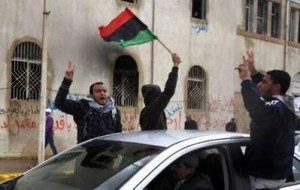 Anti-Libyan government militias took control of Misrata late on Thursday after evicting forces loyal to leader Gaddafi from the Mediterranean coastal city, prompting street celebrations, a witness said. Human rights officials say up to 2,000 people may have died so far in the uprising, which began on Febuary 15.
Libyan strongman Moammar Gaddafi offered no concessions to protesters who have shaken his regime by capturing several major cities, denouncing them as drunkards, terrorists and "drug-fueled mice" who should be executed.
Having already taken over in the second city Benghazi, rebels are now said to be in control of key Libyan oil and product terminals east of the capital. Reports from the west suggest the third city Misrata, as well as Zuara, have also fallen into opposition hands. Residents in Misrata said a counter-attack by loyalists and foreign mercenaries had been contained. And as many as 100 are thought to have been killed during fierce fighting in the western town of Zawiyah.
Resident Mohamed Senoussi, 41, said protesters had overcome the security forces and taken full control of Misrata, about 200 km (125 miles) east of Tripoli, after a "fierce battle" near its airport.
"Calm returned to the city around four hours ago after intense fighting in the morning … The people's spirits here are high, they are celebrating and chanting 'God is Greatest'," he told Reuters by telephone.
"The civilians are now organizing traffic, searching pedestrians for weapons. They have arrested some armed intruders believed to be from Tripoli. Every now and then, we hear gunshots but it's nothing like the intense exchanges earlier in the day," he added.
"There are rumors that government forces and mercenaries are trying to regroup at the city limits to launch new attacks but our armed youths are roaming the forests around the city where many are believed to be hiding."
An unspecified number of government forces and foreign mercenaries were killed after they stormed protesters near the city's airport earlier on Thursday, he said.
"Some were killed, others were arrested or surrendered. The protesters arrested 20 mostly African mercenaries and two Libyan soldiers. I have seen them in shackles," Senoussi said.
"The death toll among civilians is seven, mostly at the city's main medical facility, and around 25 were wounded."
He said civilians were trying to re-organize things by setting up committees to run the city.
"A lot of people have left their homes to donate blood, others came with food supplies," he said.
Witnesses in Tripoli have told Reuters there was no sign Gaddafi's forces had lost control there: uniformed police were directing traffic as usual, state television was broadcasting and pro-Gaddafi supporters held a rally in the city.
Reuters, Sky