Report: March 14 to officially boycott Mikati government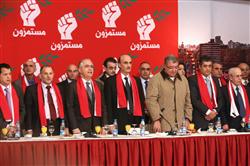 The March 14 opposition will reportedly announce their official stance not to participate in the new government in the next 48 hours, paving the way for Premier-designate Najib Miqati to form a one-sided cabinet.
"We are heading towards announcing (our decision) in the next 48 hours. It is probably a negative response," Caretaker Labor Minister Butros Harb told An Nahar.
He accused the March 8 coalition of seeking to have "hegemony" over state institutions.
Harb told An Nahar daily in remarks published Thursday that "nothing encourages (us) to participate in the cabinet particularly that the other team's stance from the March 14 principles is not clear."
The caretaker minister stressed that March 14 was insisting on not repeating the mistakes of the previous government. "We hold onto the democratic system in which the majority rules and the minority opposes in parliament."
Harb's remarks came as March 14 leaders confirmed to pan-Arab daily al-Hayat that the alliance's officials were holding talks to announce their unified stance from the cabinet.
They said the alliance would most probably not participate in the government after Miqati made unclear stances on its demands to keep Lebanon committed to the international tribunal and resolve the problem of arms.
The sources confirmed that the coalition had started to prepare for the March 14 Cedar Revolution anniversary on the basis of being the new opposition.