Aoun's attacks on Suleiman driven by Hezbollah's campaign to control the presidency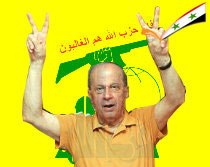 Lebanon First bloc MP Atef Majdalani said on Thursday that Hezbollah wants to make President Michel Suleiman its subject through the cabinet demands of Free Patriotic Movement leader MP Michel Aoun.
"The goal [of the March 8 coalition] is not to control the cabinet, but also the presidency. Hezbollah wants Suleiman to become [its subject] through the attack being launched by Aoun[on the president]," Majdalani told the Voice of Lebanon (100.5) radio station.
Lebanese Forces bloc MP Joseph Maalouf said on Thursday that Free Patriotic Movement MP Michel Aoun's views are "a cover up for Hezbollah."
Cabinet formation is being delayed by a dispute between Aoun and Suleiman over the Interior Ministry portfolio. Aoun said Tuesday that Suleiman has no right to shares in the cabinet and should form his own political party if he wants to be involved in politics.
"Not everything Aoun states [has divine authority]," Maalouf told the Free Lebanon radio station.
"The the country's president should be [respected]," the MP said, adding that President Michel Sleiman is "a statesman par excellence."
Suleiman will not take any position that will harm Lebanon, Maalouf said.
Now Lebanon