Suleiman: History never mentions the wars we avoided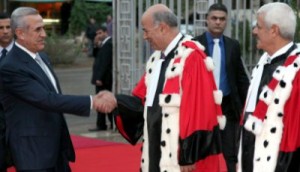 "The unity that happened [today] in Rome should not be ad hoc or formal," Sleiman added during a lunch organized by the Worldwide Maronite Foundation honoring him on Wednesday in Rome, according to a statement issued by President Michel Suleiman's office.
"The priority of the Maronites and the Christians is to preserve Lebanon as an entity," Sleiman said on Wednesday.
Sleiman also called for "the implementation of all the clauses of the Taif Accord," the statement said.
"History never mentions the wars we avoided, it always tells about the wars that we fell into the traps of."
On Wednesday, Sleiman, Maronite Patriarch Nasrallah Boutros Sfeir and Maronite ministers and MPs attended the ceremony for the unveiling of the statue of Saint Maroun in Saint Peter's Square at the Vatican.
Najib Mikati was appointed to the premiership on January 25 with the Hezbollah-led March 8 coalition's backing and has called on all parties to join his cabinet.