Aoun is acting as if he is President and Prime Minister says Harb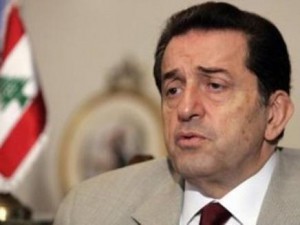 Labor Minister Boutros Harb said in an interview published on Monday Free Patriotic Movement leader MP Michel Aoun "wants to name the ministers for the new cabinet. He rejects granting Suleiman [certain ministerial portfolios]. He is acting as if he is the one forming the cabinet. We have to remind [everyone] that Prime Minister-designate Najib Mikati and Suleiman are the ones forming the cabinet and not Aoun."
Harb said that those who dream of dislodging President Michel Suleiman have to postpone their dreams, in a likely reference to Aoun.
"Suleiman has been elected to [serve] for six years. Even if more than two-third of the MPs sign to dismiss the president, there will not be any constitutional effects," Harb told Al-Liwaa newspaper.
Mikati knows that forming a unilateral cabinet will not be a successful government, Harb also said.
He added that a national-unity cabinet is more capable of facing the repercussions of the Special Tribunal for Lebanon (STL) indictment than a cabinet consisting of only March 8 parties.
Cabinet formation is reportedly being delayed by a dispute between Aoun and Sleiman over the Interior Ministry portfolio, and some March 8 parties reportedly oppose the FPM leader's demand.