Franjieh the consensus candidate for Interior Ministry?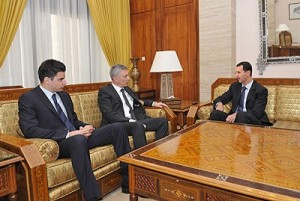 The process of the government formation has gone back to square one.
The most recent cabinet formation proposal involves giving the Interior Ministry to Marada Movement leader and staunch ally of Syria MP Sleiman Franjieh, MTV reported on Saturday night.
Aoun's latest verbal attack on President Michel Suleiman created another obstacle to the government formation process, leading the head of state to hold onto the interior ministry more than before.
This would be a "middle solution between [Free Patriotic Movement leader] MP Michel Aoun and President Michel Sleiman, but Franjieh is still hesitant," the report said, without citing a source.
The station also reported that there is an alternate proposal whereby "the same [Interior Ministry] portfolio would go to a personality from the military who enjoys approval from both President Sleiman and MP Aoun."
The FPM leader is insisting on getting the interior portfolio in addition to 11 other ministries.
"Forming the awaited cabinet now requires a long time," Arab Tawhid Party leader Wiam Wahhab said on Saturday.
Prime Minister-designate Najib Mikati was appointed to the premiership on January 25 with the Hezbollah-led March 8 coalition's backing and has called on all parties to join his cabinet.
Aoun is reportedly demanding certain ministerial portfolios – in particular the Interior Ministry – while other March 8 parties reportedly oppose this demand.
The portfolio is currently held by Minister Ziad Baroud, who is part of Sleiman's cabinet bloc.
Wahhab called for the cabinet to be formed in order to "bear responsibility and confront suspect plots and plans," according to the National News Agency (NNA).
He also questioned the use of national unity governments, asking what they have accomplished in the past.
Now Lebanon & Naharnet