National Bloc slams appearance of Hezbollah terror cell leader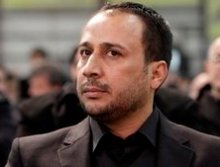 The National Bloc said Friday that the appearance of Mohammad Yusuf Mansour, also known as Sami Shehab, at a Wednesday rally in Beirut was an "offensive violation" of Lebanese and Egyptian sovereignty.
Shehab, the head of a 22-member Hezbollah terror cell who escaped from an Egyptian prison during the Cairo uprising, was tried and convicted in Egypt, the bloc said in a statement, adding that Shehab is therefore not a freed prisoner who ought to celebrate his liberation.
"Is war or peace Hezbollah Secretary General Sayyed Hassan Nasrallah's decision? When he announces he wants peace or war, he is violating the constitution."
Free Patriotic Movement leader MP Michel Aoun's recent statements show his "continuous coup" against his previous stances in order to achieve his own personal interests, the bloc also said in the statement following its weekly meeting.
Aoun has a "complex" because he has not been able to reach the presidency, the bloc added.
On Wednesday evening Aoun said President Michel Suleiman "broke the conditions of his election and went down into the [political] square."
Nasrallah, during a televised speech on Wednesday, threatened to "target" Israeli officials and "liberate the Galilee region" in the event of war with Israel.
Egyptian courts last year sentenced 26 people, four in absentia, for allegedly planning attacks in Egypt on behalf of Hezbollah, a move seen as retaliation for its criticism of former President Hosni Mubarak.
The arrests soured relations between predominantly Sunni Egypt and Shia Hezbollah's backer Iran, with Cairo accusing Tehran of using the movement to gain a foothold in Egypt. Now Lebanon