Libyans in US allege coercion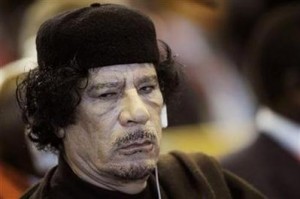 In an apparent effort to control the public narrative in the wake of rare protests that have spread throughout Libya, the country's government is threatening to withdraw scholarship funding from citizens studying in the US unless they attend pro-government rallies in Washington this weekend, Al Jazeera has learned.
Several Libyans studying in the US said they and their peers have received phone calls this week from a man employed by the Libyan embassy instructing them to join rallies in the capital on Friday and Saturday.
The man told the students that their government-funded scholarships would be cut off if they did not attend.
The apparent coercion comes as protesters in Libya attempted to mount a "day of rage" on Thursday and continued their calls for the end of Muammar Gaddafi's 42-year reign as Libya's leader.
At least 14 people are reported to have died as a result of unrest that began on Monday and has broken out in cities throughout the country, including Tripoli, the capital, and Benghazi, Libya's second-largest city, where most of the deaths have been reported.
The Libyan embassy employee in the US told students that the government would pay for all the expenses associated with attending the rally, including a plane ticket, hotel room and food, the students said.
They spoke with Al Jazeera on the condition they remain anonymous because they feared retribution from the government if their identities were made public.
"Consequences'
One student in his mid-20s who graduated from medical school in Libya and is preparing to take his physicians' licensing exam said that the man from the embassy called late on Tuesday night and identified himself as a cultural liaison.
"He said, 'Listen, you're going to have to come … it's not your choice, it's best you go, it's better than the consequences'." the student said.
"I said, what do you mean, the consequences? And he said, 'You'll lose your scholarship.' And I said, 'Are you threatening me?' And he said, 'No it's not a threat, it's the reality'."
The cultural liaison said he had a list of names and that the government would note those who attended, the student said.
"I felt embarrassed, I felt coerced," he said.
Another student who also received a late-night phone call on Tuesday said that the caller, a man he knew, told him he was carrying out government instructions. The student said he too was threatened with the loss of his scholarship.
"I told them I had an exam coming up in the next few days and they told me, 'It's a serious situation, you have to go,' and if I don't go they told me, 'Most probably (the government) will cut off your scholarship,'" the man said.
"We have your birthday and we have your full name and we need you to say that you are coming," the caller said.
Both students said they had spoken with more than a dozen peers who also reported receiving similar threats.
'Act of desperation'
Abdulla Darrat, a 28-year-old co-founder of the "Enough Gaddafi" movement who is based in New York City, told Al Jazeera he had heard of the threats as well.
The Libyan embassy in Washington referred questions about the coercive phone calls to Alsudik Ali, a second secretary at the mission, who had not responded by early afternoon local time on Thursday.
One of the students said he had called Libyan peers whom he considered close friends to ask about the threats, but he said he was afraid to ask other Libyan student acquaintances because he feared they might report him to the government.
"Among Libyan students, we have informants," he said. "I can't just go through a list and call them … Some of them would call the Libyan embassy and tell them that he has talked to Jazeera."
Darrat said his group had applied for permits to protest at the Libyan embassy on Friday and Saturday and planned to hold a demonstration at the White House on Saturday as well.
A pro-government student group has applied for permits to demonstrate next to them, he said.
Darrat compared the government's current public relations effort with the event it staged during Gaddafi's visit to the United Nations in September 2009, when the Libyan government erected a stage that featured African dancers and a large television screen that projected Gaddafi's one-hour-and-40-minute speech to the General Assembly.
Darrat and others claimed the Libyan government had paid citizens in the United States to attend pro-Gaddafi rallies during the visit.
Some were given $2,000 and took the money "as a way to get out of studies and enjoy a weekend," one of the students said.
"This time it's much different," he said. "The embassy officials are desperate and are now attempting to force us to go. This an act of desperation."
Dissidents face retribution
When Libyans protest against the government, Darrat said, they usually anticipate that the government will retaliate somehow.
"If you refuse to go [to the protest], it's not just the scholarship, it is when you return, you will have problems," he said.
"Basically in Libya, it's all about intermediaries. You get a job through intermediaries, basically bribing and nepotism … If you want a job, if you want to live a comfortable life, it can be very difficult to do so without acquiescence to the demands of the regime."
Many Libyans are well aware of the heavy hand the government has applied, even internationally, since Gaddafi fully consolidated power in the late 1970s, Darrat said.
"It was the end of that decade the regime became more vicious and more violent," said Naeem Gheriany, Darrat's 56-year-old father-in-law and a nuclear engineer who works for the US Energy Department. Gheriany has been involved in Libyan opposition politics for decades and said he was warned once during a trip to Italy that government agents planned on attacking him.
"They started essentially tracking dissidents not just in Libya but overseas, and of course managed to liquidate a number of Libyan citizens outside of the country, in England and other places," he said.
Gheriany became involved with the opposition General Union of Students of Libya and left his home country permanently in the late summer of 1980.
"Of course, I was blacklisted, so I couldn't go back to Libya, and a lot of my friends were arrested in Libya," he said.
'Kicked out'
Activists hope that the tens of thousands of Libyans they say have taken to the streets around the country finally will bring an end to the Gaddafi era and its repressive tactics.
The government has shown no signs of making any concessions to the demonstrators thus far, but for some of the students in the United States, the sight of citizens publicly calling for Gaddafi's ouster was enough to inspire them to defy the embassy's demands to come to Washington DC.
"I was up late all last night watching the videos of masked youths pleading to the Libyan people to rise against the oppression," one of the students wrote in an email.
"These videos have been circulating on Facebook, and after watching them I broke into tears. I will no longer accept this oppression."
The student said he had stopped answering all unknown phone calls, which he assumes are the embassy checking to see whether he will accept the ticket.
His brother, in Libya, has told him that the government has blocked Internet access and severed communications with eastern parts of the country.
He and others say their attention is now directed to Tripoli, where protests could prove decisive.
Another student, who also has been watching videos of the protests on social media websites, said he was inspired to refuse the embassy's instructions by recent upheavals in Tunisia and Egypt – where longtime leaders both stepped down from power following mass protests.
"I mean today people are protesting in the different cities in my country, now I saw the videos on the Facebook and YouTube," said one man, who told the embassy officer he could not postpone his upcoming exam.
"I'm not afraid anymore, because I'm feeling that it's gonna be over, Gaddafi's gonna be over, it's happened in Tunisia and Egypt … This guy, he's not gonna [step] down, he's gonna be kicked out."Aljazeera