Netanyahu tells Hezbollah chief: Stay in your bunker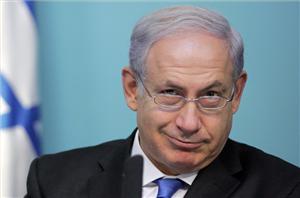 Israeli newspaper Jerusalem Post reported that Israeli Prime Minister Binyamin Netanyahu responded to Hezbollah leader Sayyed Hassan Nasrallah's speech at the Conference of Presidents of Major Jewish Organizations gathering in Jerusalem.
"Whoever hides in a bunker should stay in the bunker," Netanyahu said. "No one should doubt Israel's strength or its ability to defend itself"
"We have a strong army," he added. "We seek peace with all of our neighbors, but the IDF is prepared to defend Israel from any of its enemies."
Nasrallah has been hiding ever since the 2006 war between Israel and Hezbollah erupted . In Lebanon he made several appearance on TV via video link but he appeared in person in Syria on couple of occasions to meet Iranian leaders.
His statement comes after Nasrallah said Israel is the root of the problem in the Middle East
He addressed Israel today by saying:
"I tell the Zionist leaders and generals to be careful wherever they are in the world because Imad Mughniyeh's blood will not go to waste.". This was in reference to the alleged closing of 4 Israeli embassies as a precaution against the threats of possible revenge for the murder of Mughniyeh
He also addressed Israeli leaders Ehud Barak, Gabi Ashkenazi, and Israeli new Chief of Staff Gantz by saying : "I will tell the resistance fighters to be prepared for the day when war is imposed on Lebanon. One day I will also tell them to reoccupy Galilee"
Nasrallah was responding to Israeli Defense who was quoted as saying that the Israel army may have to enter Lebanon again to ensure Hezbollah remembers the lessons of the 2006 war.