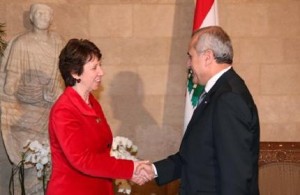 EU foreign affairs chief Catherine Ashton said on Wednesday a new Lebanese government must abide by commitments to cooperate with a tribunal investigating the 2005 killing of statesman Rafik al-Hariri.
Ashton was speaking after talks in Beirut with political leaders including prime minister designate Najib Mikati, appointed after Shi'ite group Hezbollah and its allies toppled the last government in a dispute over the U.N.-backed tribunal.
The court issued a still-secret draft indictment last month which is expected to accuse Hezbollah members of involvement in Hariri's killing. Hezbollah has denied any role and said the new government's priority must be to cut links with the court.
"All U.N. Security Council (resolutions) need to be abided by, including those that relate to the tribunal," Ashton said.
"I made the point too that we are looking forward to a government programme that will take on board these elements, and advance the reform agenda," Ashton told reporters at Beirut airport before leaving Lebanon.
Outgoing prime minister Saad al-Hariri, son of the slain former premier who enjoys Western and Saudi support, said on Monday his opposition coalition remains committed to the court.
Mikati, a centrist politician who won his nomination with the support of Iranian and Syrian-backed Hezbollah, says he will seek consensus among Lebanon's divided factions over how to deal with the tribunal.
A statement from Mikati's office after his talks with Ashton said he "affirmed his desire for justice and stability in Lebanon," and urged the European Union to judge his government on its actions rather than "pre-conceived ideas."
The U.N.-backed tribunal handed down a key procedural ruling on Wednesday to settle legal points, including what definition of terrorism it would apply, as it considers whether to confirm last month's draft indictment. Reuters
This error message is only visible to WordPress admins
Error: No connected account.
Please go to the Instagram Feed settings page to connect an account.