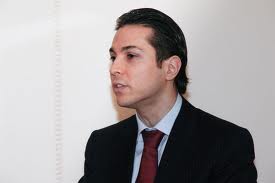 A cousin of Syrian President Bashar al-Assad living in exile warned Wednesday that the Syrian government must enact democratic reforms or face the "chaos" sweeping other Arab countries.
"Change or be changed," said Ribal al-Assad, head of the London-based Organisation for Democracy and Freedom in Syria.
"Now I think they have to listen. It is not their choice any more, because they are feeling the heat, they are feeling what has been happening all around the Middle East," he told reporters in Berlin.
"We would prefer that the government does it and listens to their senses, listen to the people, to the voices of the people in the Middle East, and they start seeing that they need to change as soon as possible."
Assad, 35, is the son of Rifaat al-Assad, the brother of late president Hafiz al-Assad and the uncle of the current head of state. He went into exile in 1984.
The younger Assad said he had not been in Syria since 1999, a year before his cousin took power.
"We don't want a revolution in Syria, we want the government to start changing, we want a peaceful change and transitional change," he told reporters at a European police congress in the German capital.
"Revolution leads to chaos and we don't want to see that in Syria so we always press on the regime to make changes, to call for national reconciliation, to form a national unity government.
"They have to start by ending the state of emergency, they have to release all political prisoners because the situation is becoming impossible.
"As you have seen how things have happened in Tunisia and Egypt, they have to allow freedom of expression and association."
He added: "Syria is a bit different from Tunisia and Egypt. In Syria you have many religions and many peoples … It is a beautiful mosaic if you know how to put it together, and it could be a disaster as we saw in Iraq.
"We have to be very careful when we call for change. We don't want a revolution." AFP