Aoun: I won't let president Suleiman have any ministry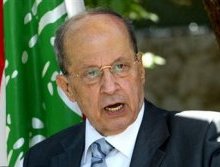 FPM leader MP Michel Aoun said in an interview on OTV that his parliamentary Change and reform bloc represents 40 % of the new majority and for this reason he wants 13 cabinet portfolios out of the proposed 30 in the new cabinet .
"We want proportional representation in cabinet", he stressed
commenting on his dispute with President Michel Suleiman over the ministry of interior
Aoun said he won't let the president have any portfolio.
" The issue of the president's share (in cabinet) is a farce that is not subject to any constitutional provisions or the criteria of popular support, and personally I won't give Suleiman any portfolio as he hasn't been a consensual president."
Aoun added: "The president formed electoral lists to challenge us in the parliamentary and municipal elections".
Aoun said the centrist bloc was a US embassy idea .
Aoun set new conditions for March 14 participation in the cabinet
" Should the other camp decide to join the new cabinet then it must agree to our plan for solving the controversial issues, we will give them the blocking-third, but we will stop any cooperation with the ( STL) tribunal." He added : "STL has not respected Lebanese sovereignty and its impartiality is questionable."
Aoun defended Syria's new role in Lebanon
"Syria isn't imposing a certain policy on us, but whether we like it or not there's common security and commercial exchange between the two nations. "
Aoun also said no power in the world could convince Syria to return militarily to Lebanon.
He also defended Hezbollah
" Hezbollah does not pose a threat to the Christians ". He said, adding "Hezbollah is only interested in fighting Israel."
Aoun's interview comes after Al-Hayat report on Wednesday in which it said contacts were ongoing between Mikati, via his brother, Taha Mikati, and the Syrian leadership in order to soften Aoun's demands.
Al Hayat quoted sources from the March 8 alliance as saying that Hezbollah leader Sayyed Hassan Nasrallah's political aide Hussein Khalil was closely following up ongoing negotiations between Taha Mikati and Aoun's son-in-law Gebran Bassil, who is also caretaker Energy Minister.
The Iranian- and Syrian-backed Hezbollah brought down PM Saad Hariri's government on January 12 over the Special Tribunal for Lebanon's imminent indictment which is widely expected to implicate Hezbollah members in the assassination of former PM Rafik Hariri in 2005 .
Nagib Mikati, who was backed by Hezbollah and its March 8 allies including MP Walid Jumblatt and Mohammad Safadi, was appointed on January 25 by president Michel Suleiman as PM-designate to form and head the next cabinet , giving Hezbollah and its allies increased leverage in the country and provoking widespread protest.
On Monday U.S. Secretary of State Hilary Clinton accused Hezbollah of hijacking Lebanon's democracy.
The Lebanese "deserve to have their democracy respected and their voices heard, and not have one element of their society using the threat of force and the potential of violence to try to achieve political ends," she said.
This was a possible reference to the alleged Hezbollah threats against MP Walid Jumblatt and his PSP parliament members that forced them to switch allegiance to Hezbollah's PM candidate .