Berlusconi to stand trial in sex case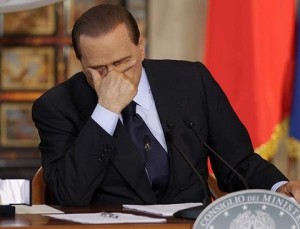 The Italian Prime Minister, Silvio Berlusconi, is to face trial on charges of sex with a 17-year-old girl – and the case will be heard by three female judges, a court has ordered.
The news emerged just hours after thousands of women took to the streets of Italy's major cities to protest against the 74-year-old's sexual antics, leaked in lurid detail from wiretaps and investigations over more than a year.
Mr Berlusconi's lawyers, quoted by AFP, appeared to play down the judge's decision overnight, saying only "we didn't expect anything else".
Advertisement: Story continues below
Mr Berlusconi's trial will now begin on April 6 and stretch over three weeks – fast-tracked by Italy's Constitutional Court after his automatic immunity from criminal charges, granted by the Parliament last year, was removed by a panel of judges.
The timing of the court proceedings could not have come at a worse time for the Prime Minister, after he barely survived a no-confidence motion in the Parliament and has been fighting a split in his own right-wing coalition.
Italian newspapers have been riveted by a flood of leaks, most from investigators' wiretaps, which revealed detailed accounts of so-called "bunga bunga" sex parties attended by a horde of would-be TV starlets who apparently stripped, pole-danced and sang for Mr Berlusconi and his friends, leaving with jewellery and bundles of cash.
It has also emerged that Mr Berlusconi used a block of apartments in one of his own developments to house the young women, paying for their rent and even medical bills and schooling for children, apparently in return for their favours.
Mr Berlusconi has always denied the allegations, insisting in public and on TV as late as last month that his parties were "elegant, tranquil" affairs conducted always within the boundaries of "good taste".
This will not be the first time that Mr Berlusconi has faced the courts, although in the past the charges have related to his business dealings. If this legal action actually unfolds, it would be the first time that his personal conduct is tested in public.
The Italian investigators and prosecutors allege he paid for sex with a 17-year-old Moroccan girl, known as Ruby Rubacuori (the Heart Stealer), and that he used his influence to get her out of police custody after she was arrested for an alleged theft of €3000 ($4052).
It is alleged the Prime Minister called the police claiming that Ruby was the niece of Hosni Mubarak, the then-president of Egypt, and that the arrest could cause a diplomatic incident. Investigators allege that Mr Berlusconi wanted her released because he feared his relationship with the then-underage girl would become public.
Italian law states that it is illegal to pay for sex with a woman under the age of 18. If Mr Berlusconi is convicted, he could face three years in prison, as well as up to 12 years for abuse of power.smh