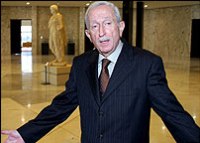 Former Prime Minister Omar Karami explained in a statement on Saturday about his absence from Thursday's Dar al-Fatwa meeting by saying:
"We do not respond to the invitation of a criminal."
His attack against the Mufti comes one day after criticizing Mikati for attending the meeting.
"How could PM Mikati attend this meeting that contains clear commitments regarding false witnesses, the Special Tribunal for Lebanon (STL), and the weapons of the Resistance?" He said yesterday according to National News Agency (NNA).
Karami said that he avoided the meeting because the invitation came from Grand Mufti who he said is suspected of corruption and therefore should not remain the Mufti
The Grand Mufti of the Lebanese Republic Sheikh Mohammad Rashid Qabbani, is the highest Sunni Muslim spiritual authority in Lebanon.
Karami, a staunch ally of Syria is Sunni too but while he sides with the Iranian and Syrian backed Hezbollah , the Mufti is a strong supporter of Hariri .
Karami also said he stayed away from the gathering because the (Dar al-Fatwa) statement issued afterward was obviously Siniora's work. In reference to former Lebanese PM Fouad Siniora , who along with outgoing PM Saad Hariri, PM Designate Nagib Mikati attended the invitation of the grand Mufti .
"Attendance means agreeing to the statement , and therefore I was surprised that PM Mikati went to such a meeting."
Karami again questioned what Mikati's stance will be when (STL) issues its indictment, adding that Mikati is wrong in assuming that the tribunal is an "international issue" because it is a "Lebanese issue."
The Lebanese state's protocol concerning the tribunal should be abolished, Karami said, adding that he doubts Mikati is prepared to do this.
Hezbollah brought down PM Saad Hariri's government on January 12 over the Special Tribunal for Lebanon's ( STL) indictment which is widely expected to implicate Hezbollah members in the assassination of former PM Rafik Hariri in 2005. The government would not have collapsed without the help of Suleiman's minister of state Adnan el Sayyed Hussein.
Mikati, who was backed by Hezbollah and its March 8 allies including MPs Walid Jumblatt and Mohammad Safadi, was appointed by president Michel Suleiman as PM-designate to form and head the next cabinet , giving Hezbollah and its allies increased leverage in the country and provoking widespread protests.