Berri's son-in-law Joumaa denies links to LCB money laundering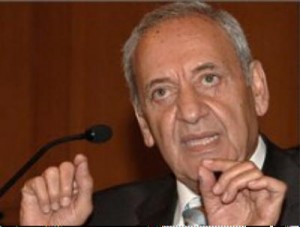 Parliament Speaker Nabih Berri's son-in-law Ayman Zakaria Joumaa, denied on Saturday involvement in Lebanese-Canadian Bank (LCB) money laundering.
"I have nothing to do with Ayman Saeed Joumaa whose name was mentioned in the U.S. Treasury as being involved in money laundering," Ayman Zakaria Joumaa said in a statement
His statement comes after U.S. the sanctioned the Beiirut-based Lebanese Canadian Bank over money laundering money for alleged cocaine trafficker Ayman Joumaa and linked Hezbollah to the bank's illegal activities.
In a related development the bank has denied accusations by the U.S. Treasury Department that it is involved in laundering hundreds of millions of dollars on behalf of a drug kingpin — and rejected claims it has links with Hezbollah.
The bank's chairman, Georges Zard Abou Jaoude, told CNN Friday that the bank had no relationship whatsoever with Hezbollah nor to the best of its knowledge with anyone designated by the U.S. Treasury Department. Jaoude said the bank had identified an account in Joumaa's name but it had not been used in four years. It had notified Lebanese regulators about the account, and the bank's books had been regularly inspected by the Special Investigation Commission, a Lebanese task force set up to counter money laundering.
Also on Friday Lebanese Central Bank Governor Riad Salameh praised the bank and said it has his support.
"The Lebanese Canadian Bank (LCB) has a highly qualified administration, plenty of liquidity and the support of the Central Bank." He said
"The LCB respects international standards, the memoranda of the Central Bank and the money laundering control committee," the National News Agency quoted Salameh as saying.