Arab leaders, facing calls for reform
Across the Arab world on Friday, thousands of people poured into the streets to celebrate the resignation of President Hosni Mubarak of Egypt after nearly three weeks of demonstrations against his almost 30-year rule.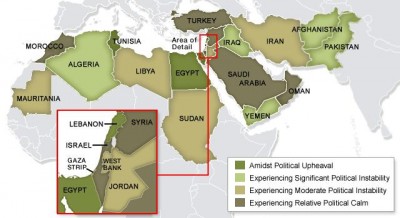 In Beirut, gunfire broke out and crowds of people waved Egyptian flags. In Yemen, they gathered in front of the Egyptian Embassy chanting, "Wake up rulers, Mubarak fell today." In Gaza, they fired shots in the air and set off fireworks.
But in a telling sign of the divide between the rulers and the ruled, the region's leaders, presidents and monarchs remained largely silent.
The popular uprising that started four weeks ago in Tunisia had claimed its second autocratic government, this time in the largest country in the Arab world. With more protests planned in coming days, some governments were clearly worried they could be next.
"All the regimes are shaking now," said Fawaz Traboulsi, a prominent Lebanese writer and columnist. "They are becoming more and more fragile. This is just the beginning."
Several leaders met with their advisers late into the night on Friday, devising strategies for coping with the demands for change in their own countries. While those meetings were private, their public responses so far have relied on a combination of tactics including denunciations of the protesters as foreign-led, offers of monetary and other concessions to undercut complaints of injustice, and the generous deployment of tear gas, truncheons and other blunt instruments of repression.
Saudi Arabia has been the most outspoken in its opposition to the protesters, assailing those in Egypt for what it described as foreign meddling in Egypt's affairs.
King Abdullah accused the Egyptian protesters last week of "meddling in the security and stability of Arab and Muslim Egypt." And the foreign minister, Prince Saud al-Faisal, said Thursday in Morocco that he was astonished "at what we see as interference in the internal affairs of Egypt by some countries."
In Bahrain, King Hamad Bin Isa al-Khalifa on Friday ordered the equivalent of $2,650 be given to every Bahraini family. He is facing a "Day of Rage" protest on Monday. Analysts there say he may announce reforms in a speech on Saturday.
"Arab people discovered their ability to make change," said Nabeel Rajab, a human rights activist in Bahrain. "And with Egypt in the leadership once again, the change will reach all the Arab world."
In Yemen, after protests that drew thousands into the streets of the capital, Sana, on Friday, President Ali Abdullah Saleh was expected to announce more concessions soon, opposition leaders said. Last week, he declared that he would suspend constitutional amendments allowing him to remain in power for life, a longstanding demand of the Islamist-led opposition, and promised that his son would not inherit his rule.
He has also raised salaries for the military and civil servants, cut income taxes in half and ordered price controls.
In Iraq, officials have reduced their salaries, and in Algeria, the government has promised to lift the state of emergency that has been the law since 1992.
Syrian officials lifted a ban on Facebook and Youtube this week, tools Egyptian protesters used to great effect. Human rights advocates warned that the move could make it easier for the government to monitor its opponents. Still, residents of a Damascus suburb celebrated Mr. Mubarak's ouster with fireworks on Friday, Reuters reported, a bold stance in a country ruled by emergency law for nearly five decades.
The only governments in the region that seemed to have embraced the protests without reservation were those led by Islamists. In Lebanon, a Hezbollah statement said, "Hezbollah congratulates the great people of Egypt on this historic and honorable victory which is a direct result of their pioneering revolution."
In Gaza, the Palestinian militant group Hamas went further, calling on the new Egyptian leadership to open the borders with Gaza and reconsider its ties with Israel.
On the streets of Arab cities, the joy was sometimes tempered with tristesse for those still under authoritarian governments.
"As much as I was happy, I felt sad for Arabs," said Shawqi al-Qadi, a Yemeni opposition leader. "Why are we ruled by people who are so hated and disgusted by their people? How did that happen to us?"
And wistfulness.
"I wish I was an Egyptian today," said Jammal Amar, 23, a Beirut university student. "What happened makes us confident that we can revolt against injustice and oppression and prevail."
Contagious as the enthusiasm was, the obstacles to another Tunisia or another Egypt remain daunting.
On Friday, those obstacles were perhaps most visible in Algeria, where thousands of police officers in riot gear mobilized in the center of the capital, Algiers. They were preparing to put down an opposition march planned there on Saturday. NYT