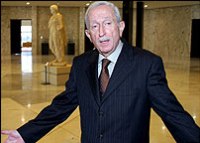 "How could PM Mikati attend this meeting that contains clear commitments regarding false witnesses, the Special Tribunal for Lebanon (STL), and the weapons of the Resistance?" former Prime Minister Omar Karami asked on Friday, according to National News Agency (NNA).
Karami reportedly said that the goal of Thursday's Dar al-Fatwa "Islamic gathering" was to force Prime Minister-designate Najib Mikati to abide by "certain commitments,"
Karami claimed that he had not attended the meeting because the invitation was suspicious.
Karami according to Hezbollah chief was their first choice to lead the new cabinet , but reportedly it was Syria that insisted on naming Mikati.
Hezbollah brought down PM Saad Hariri's government on January 12 over the Special Tribunal for Lebanon's ( STL) indictment which is widely expected to implicate Hezbollah members in the assassination of former PM Rafik Hariri in 2005. The government would not have collapsed without the help of Suleiman's minister of state Adnan el Sayyed Hussein.
Mikati, who was backed by Hezbollah and its March 8 allies including MPs Walid Jumblatt and Mohammad Safadi, was appointed by president Michel Suleiman as PM-designate to form and head the next cabinet , giving Hezbollah and its allies increased leverage in the country and provoking widespread protests.
Jumblatt who, along with his parliamentary bloc had the decisive vote in the naming of PM designate was reportedly subjected to repeated threats by Hezbollah.
Mikati has called on all Lebanese parties to join his upcoming cabinet, but March 14 parties have said that they will not take part in a cabinet headed by a March 8 before Mikati first clarifies his stance on illegal weapons ( those of Hezbollah and Syrian backed Palestinians outside the camps) and the UN-backed tribunal STL.
Sunni political and religious leaders who attended an "Islamic meeting" at Dar al-Fatwa on Thursday, issuing a statement warning against "giving up on Lebanon's commitment to the STL."