STL sets Feb 16 as date for hearing over its ruling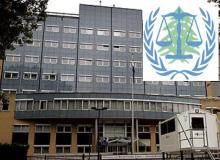 The Special Tribunal for Lebanon ( STL) issued the following statement regarding the scheduled hearing over its ruling on Pre-Trial Judge's ( Judge Daniel Fransen) legal questions:
The Appeals Chamber has scheduled a hearing to deliver its ruling on the Pre-Trial Judge's legal questions on Wednesday, 16 February, at 11 AM (local time in The Hague). The hearing is expected to last one hour.
Accreditation is required for all media representatives who wish to enter the Tribunal building. Please fill out the accreditation form on our website, no later than Tuesday 15th February
The STL was created by a 2007 UN Security Council resolution to find and try the killers of former PM Rafik Hariri, who was assassinated in a massive car bombing on the Beirut seafront on February 14, 2005 that also killed 22 other people.
In a related development Al-Hayat newspaper quoted on Thursday high-ranking French sources as saying that the indictment in the 2005 assassination of former PM Rrafik Hariri is likely to be made public "within the coming 10 days."
The Special Tribunal for Lebanon is reportedly poised to indict Hezbollah members in the Hariri murder.
The Iranian and Syrian backed Hezbollah brought down PM Saad Hariri's government on January 12 over the Special Tribunal for Lebanon's ( STL) imminent indictment