Suleiman Hariri attend St. Maroun mass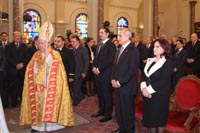 President Michel Suleiman, Caretaker PM Saad Hariri and other key officials attended on Wednesday the mass marking St. Maroun Day, at the St. Maroun church in Gemmayze, downtown Beirut .
During his sermon, Maronite Bishop Boulos Matar urged the Lebanese to consolidate the state because only a strong state is capable of protecting them.
Matar said: "A strong, capable and just state remains the sole protector of Lebanon and the Lebanese." he added: "The Lebanese should preserve their unity to be able to confront challenges." .
Saint Maroun was a 5th century Syrian Christian monk who after his death was followed by a religious movement that became known as the Maronites. The Church that grew from this movement is the Maronite Church. St. Maroun was known for his missionary work, healing and miracles, and teachings of a monastic devotion to God. His holiness and miracles attracted many followers. Maronites form the largest Christian sect in Lebanon and the Lebanese president by law should be a Maronite