Aoun met with Assad to discuss Lebanon cabinet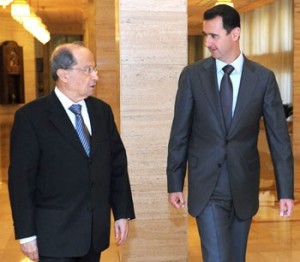 Free Patriotic Movement leader MP Michel Aoun met on Wednesday Syrian President Bashar al-Assad to discuss the formation of the Lebanese cabinet and the latest Arab and regional developments, according to Syrian Arab News Agency (SANA)
Aoun's son-in-law Energy Minister Gebran Bassil , also attended the meeting according to the report
Following the meeting Aoun "expressed his appreciation to Syria's stances in its support for Lebanon and its commitment to its unity and stability", the report said
Aoun is a key ally of the Iranian and Syrian backed Hezbollah militants
Aoun traveled to Aleppo , aboard a private Syrian presidential plane , on Tuesday to participate in the celebrations of Saint Maroun Day in Brad .
Aoun dubbed the trip to Syria as the " pilgrimage to the base"
In addition to Bassil Aoun was accompanied on the plane by Minister Fadi Abboud, and FPM MPs Ibrahim Kenaan, Nabil Nicolas, Naji Gharious and Fadi al-Aawar, in addition to his family and Former MPs Salim Aoun and Camille Khoury and Pierre Raffoul .
Hezbollah brought down PM Saad Hariri's government on January 12 over the Special Tribunal for Lebanon's ( STL) indictment which is widely expected to implicate Hezbollah members in the assassination of former PM Rafik Hariri in 2005 .
Nagib Mikati, who was backed by Hezbollah and its March 8 allies including MPs Walid Jumblatt and Mohammad Safadi, was appointed by president Michel Suleiman as PM-designate to form and head the next cabinet , giving Hezbollah and its allies increased leverage in the country and provoking widespread protests.