Israel is not pulling out of Ghajar, report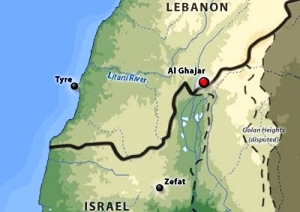 Israeli newspapers reported on Tuesday that the Israel Defense Forces (IDF) would not leave the northern part of the village of Ghajar, which lies along the border with Lebanon, despite a previous agreement reached with the United Nations.
In an agreement signed last November, Israel agreed to pull its forces out of the northern half of Ghajar, which lies in Lebanon, according to the UN's "Blue Line" – the de facto border.
Israeli occupied the area in the 1967 Six-Day War, but a later United Nations demarcation placed the northern half in Lebanon. The IDF reoccupied northern Ghajar during the 2006 war with Hezbollah.
However, "The plan was put on the back burner after Hezbollah brought down the Lebanese government" a senior Israel official told AFP, referring to deposed prime minister Saad Hariri.
"Israel agreed to hand over control of a certain part of the village to UNIFIL," within a month, the official said, referring to the U.N. forces stationed along the border.
"But it was understood that (UNIFIL) needed a green light from the Lebanese government," the official said, noting that the government's fall made it "impossible in the current situation to reach such an agreement with the Lebanese authorities."
Most of the village's more than 2,000 residents protested against the handover of the village to Lebanon , because they did not want to divide the village. The residents, who are mostly Syrian Alawites ( similar to president Bashar al Assad ) insisted that Israel should hand over the territory to Syria .
The Iranian- and Syrian-backed Hezbollah brought down PM Saad Hariri's government on January 12 over the Special Tribunal for Lebanon's ( STL) indictment which is widely expected to implicate Hezbollah members in the assassination of former PM Rafik Hariri in 2005 .
Nagib Mikati, who was backed by Hezbollah and its March 8 allies including MPs Walid Jumblatt and Mohammad Safadi, was appointed by president Michel Suleiman as PM-designate to form and head the next cabinet , giving Hezbollah and its allies increased leverage in the country and provoking widespread protests.