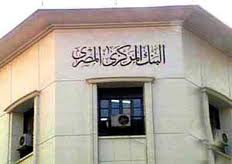 Egypt's central bank jumped into the currency market Tuesday to buy Egyptian pounds, at least temporarily reversing steep losses that threatened to drive up prices of imported food and exacerbate anti-regime protests.
Its purchases of Egyptian pounds, done through major banks trading the currency, succeeded in dragging the Egyptian pound back up to where it started the week.
But the relief isn't expected to last, especially when the stock market reopens and investors rush for the exits. The exchange is currently scheduled to reopen Sunday.
The Egyptian pound has been hit hard by the revolt against President Hosni Mubarak. The slide accelerated after banks that had been shuttered for several days by the protests reopened Monday, enabling foreign investors to ditch Egyptian assets.
A falling currency drives up the prices Egypt pays for wheat and other food imports, which would be passed on to consumers through higher grocery bills.
The central bank intervention pushed the Egyptian pound sharply higher against the dollar, which fell by 1.25% to 5.8773 Egyptian pounds. Previously the dollar had touched a six-year high of 5.9651 Egyptian pounds in early European trading. At 1245 GMT, the dollar was trading at 5.8801 Egyptian pounds.
The central bank's intervention move will help, at least for now, to ease upward pressures on food import prices, which have rushed higher as the pound
has tumbled and which could aggravate the political strife.
"The longer the unrest continues, the more the risk of lasting damage with a steep decline in the currency threatening to add to food price inflation—one alleged trigger to the rebellion," said Bill O'Neill, chief investment officer for Europe, Middle East and Africa at Merrill Lynch Wealth Management.
Egypt is already spending over 3% of its annual output on food imports, and inflation was already expected to be 12% this year before the uprising ignited, he said.
Dina Ahmad, emerging market currency strategist at BNP Paribas, predicted the central bank would continue to buy pounds to prop up the currency.
"I don't think the central bank has necessarily arrested the decline. It has smoothed out volatility and prevented an excessive slide. We will get some stabilization in the coming days but Sunday will be key," she said.
She stuck to her forecast that the dollar will rise to 6.00 Egyptian pounds, but said that it would now take longer for this level to be reached because of the intervention.
The Egyptian pound had slid 3.4% against the dollar since Jan. 14, when Tunisia's strongman Zine El Abidine Ben Ali was ousted. The biggest hit came after banks reopened Monday, with the currency shedding 1.8% of its value to hit a series of six-year lows. WSJ