Yemen, US discuss existing, future trade cooperation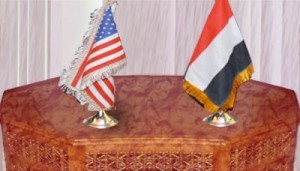 Yemen and the U.S. discussed here on Monday relations of the existing and future cooperation in trade, economic and investment areas.
During a meeting brought together Minister of Industry and Trade Hisham Sharaf and the U.S. ambassador to Yemen Gerald Feierstein, who confirmed mutual keenness to widen frames of cooperation and enhance the current bilateral partnership between the two countries in these areas to serve the common interests.
They dealt with aspects of technical support can be provided by the U.S. to enhance ingredients of food security in Yemen in light of the Yemeni government's efforts in this respect.
Sharaf noted to the role played by the Ministry of Industry in achieving the strategic stocks of basic commodities as is it's a basis for realizing the food security. He stressed that the responsibility in this regard rests with the government and the private sector based on the principle of partnership.
Moreover, Sharf and Feierstein touched on the final steps being completed for Yemen's full membership in the World Trade Organization (WTO) during the coming period in light of what Yemen has achieved in the completion of accession requirements.
The U.S. ambassador reiterated his country's support to Yemen in this aspect, noting the existing cooperation relations between the two friendly countries and the mutual keenness to boost them.
At the meeting, the two sides also reviewed programs implemented by the Ministry of Industry to qualify and develop the national industrial sector and efforts to improve investment environment, including the establishment of industrial zones in a number of provinces in the country.