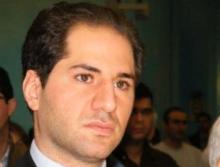 Phalange party coordinator MP Sami Gemayel told MTV on Sunday that he is not a candidate for any ministerial post in the next cabinet.
Commenting on the Phalange party's initiative to negotiate with Prime Minister-designate Najib Mikati, Gemayel said this step prevented the March 8 coalition from being able to claim that March 14 rejected its offer to have the blocking third.
"All we asked for is to be given the blocking third, and the ministerial portfolios that their representatives had. They can take the ministerial portfolios our representatives had in the previous cabinet." He said
"If March 8 wants to form a one-sided cabinet, then it must… reject our conditions for joining the cabinet." Gemayel said
In a related development House Speaker Nabih Berri who is currently visiting Qatar told Voice of Lebanon on Sunday : "Matters are progressing in the right direction and we will begin discussing the distribution of portfolios and names of ministers on Monday and added " Phalange Party leader Amin Gemayel's proposals are acceptable."
The Iranian- and Syrian-backed Hezbollah brought down PM Saad Hariri's government on January 12 over the Special Tribunal for Lebanon's ( STL) indictment which is widely expected to implicate Hezbollah members in the assassination of former PM Rafik Hariri in 2005 .
Mikati, who was backed by Hezbollah and its March 8 allies including MPs Walid Jumblatt and Mohammad Safadi, was appointed by president Michel Suleiman as PM-designate to form and head the next cabinet , giving Hezbollah and its allies increased leverage in the country .