Hezbollah chief to speak Monday in support of Egyptian revolution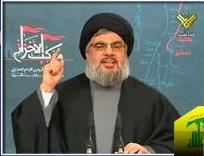 Hezbollah Secretary-General Sayyed Hassan Nasrallah will reportedly deliver a speech Monday at 3 Pm via video link" in support of the Egyptian people's revolution and in support of Egypt's Arab identity" according to local reports.
The slogan of the speech will be: "Support the Egyptian people's revolution against the regime of Camp David".
Camp David refers to the 1979 peace treaty between Egypt and Israel.
Nasrallah will be addressing a rally organized by the leftist parties in Lebanon which will take place in Ghbeiry square across from the Galleria hotel (formerly the Marriott), south of the capital Beirut