Russia calls on Baradei to seek ways out of Egypt crisis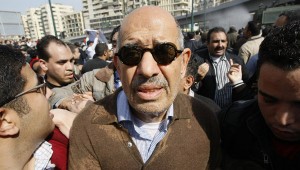 Russia has called on one of Egypt's leading opposition figures, ex-head of the IAEA Mohamed El Baradei, to seek ways of overcoming the political turmoil in the country via constructive dialogue with Egypt's leadership, a source form the Russian Foreign Ministry said.
Egypt has seen huge protests mainly in the largest cities of the North African country since January 25, with protestors demanding for President Hosni Mubarak to step down reaching into the millions.
More than 300 people have been killed and some 5,000 injured in riots throughout the country, with the largest masses seen in the country's capital of Cairo.
"Via our embassy in Cairo opposition leader Mohamed El Baradei was urged to seek ways of overcoming the crisis in the country," the Russian Foreign Ministry's source said.
A dialogue between Egypt's opposition and official power would help resolve the crisis peacefully and swiftly, the source added.
On Thursday, Russian President Dmitry Medvedev and embattled Mubarak had a telephone conversation. Medvedev wished Mubarak peaceful resolution of the crisis.
Nobel Peace Laureate Mohamed El Baradei has recently returned to Egypt from Austria to back the opposition forces in their struggle for political and economic reforms. However, many experts do not regard him as a strong political player, saying he is unaware of the modern day realities in Egypt.
On Friday, El Baradei said he would not run for presidency at the September elections, however, media reports saying that he does not rule out this move appeared later.
Ria Novosti