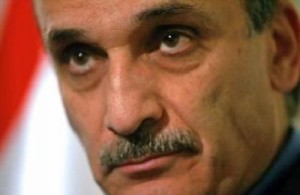 Lebanese Forces leader Samir Geagea accused during an interview with the Voice of Free Lebanon radio on Saturday the March 8 coalition of seeking to form of a "Hezbollah-Syria" cabinet in Lebanon.
"A one-sided Cabinet means a Syrian-Hezbollah government in Lebanon," Geagea said
Geagea said he was not sure how President Michel Suleiman and Prime Minister-designate Najib Mikati can "carry on like this."
He voiced hope that Suleiman would not endorse the protocol of the new cabinet headed by Mikati, adding that the cabinet will not represent the various Lebanese political parties.
Geagea pointed out that March 8 believes that a "new phase is taking shape" in Lebanon and the region, adding that Suleiman and Mikati's views, however, differ from March 8's.
The LF leader noticed the "absence of threats of sectarian strife when the other camp March 8 was able to change the equation."
March 8, he said without naming them, "always resort to intimidation to achieve the results they desire."
In response to a question, Geagea stressed that the March 14 coalition remains "coherent" with regard to its position over participation in the government.
Turning to Free Patriotic Movement leader Michel Aoun, Geagea said Hezbollah is using the former army general to deal with the unpopular issues.
"Hezbollah is smarter than Aoun, and if the former had any serious and respectful position, it would declare it, otherwise it will make Aoun and others spell them out ." He said
Earlier today Future Movement Okab Sakr told MTV that the March 14 alliance will soon announce that it is not participating in Mikati's upcoming cabinet.
" March 8 wants to take us back to one-party governance , whereas we want partnership," Sakr said
"Outgoing Prime Minister Saad Hariri was negotiating to end Lebanon's crisis, but the other side was negotiating to remove Hariri," Sakr added.
Wait says EU
Central News Agency reported on Saturday that the European Union has advised Mikati to wait until after the STL indictment before forming the Cabinet.
CNA said political leaders who have just returned from Europe quoted European officials as saying that are two key considerations to take into account before a Cabinet formation:
1- To ease Sunni tension in the streets so that a government is formed in a calm atmosphere.
2- To learn the content of the indictment and its implications at the domestic level in order to shape the new government in light of what the new political scene may produce.
They said the indictment will be issued during February or early in March.
"The indictment is going to cause an earthquake in Lebanon," one Western official was quoted as saying. He refused, however, to reveal contents of the indictment.
The Iranian- and Syria-backed Hezbollah brought down PM Saad Hariri's government on January 12 over the Special Tribunal for Lebanon's ( STL) indictment which is widely expected to implicate Hezbollah members in the assassination of former PM Rafik Hariri in 2005 .
Mikati, who was backed by Hezbollah and its March 8 allies including MPs Walid Jumblatt and Mohammad Safadi, was appointed by president Michel Suleiman as PM-designate to form and head the next cabinet , giving Hezbollah and its allies increased leverage in the country and provoking widespread protests.