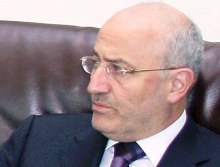 Lebanon Caretaker Public Works and Transportation Minister Ghazi Aridi said on Saturday after visiting the Beirut airport to learn firsthand what happened on the Sulaimaniyah-bound flight, that Iraqi officials are primarily responsible for investigating the Friday crash of the small private jet in the northern Iraqi city.
Aridi said that he is waiting for the preliminary results of the investigation into the incident, in which three Lebanese people – who were on board the plane – were killed.
"We cannot anticipate the results of the investigations," Aridi said, adding that the Lebanese government is following up on the issue.
Three Lebanese nationals reportedly died in Friday's crash of a private jet in Iraq. They were identified as Stephanie Lucas and Abdallah Yazbek – both of whom were members of the plane's crew – and Abdallah Lahoud, whose job is unknown.
A plane carrying the bodies of the 3 Lebanese who were killed in the crash is due in Beirut airport at 6:00 pm, MTV reported
Associated press reported yesterday the small commercial plane crashed while it was taking off from a regional airport in northern Iraq, killing seven passengers. The plane caught on fire as it was flying out of the Sulaimaniyah airport around 5 p.m. Friday. Two senior airport officials and a policeman say at least three of the dead were crew members. It was not known what airline the plane belonged to or whether there were any survivors. The officials said some of the passengers worked for AsiaCell, one of Iraq's largest mobile phone companies.
The other passengers were reportedly Turkish businessmen
Update: The bodies of the three Lebanese killed the plane crash in Iraq arrived in Beirut Saturday around 7:20 pm local time
The plane was reportedly heading to the Turkish capital of Ankara when it crashed at Sulaimaniyah airport in Iraq