Gemayel: Our goal is to preserve the state, institutions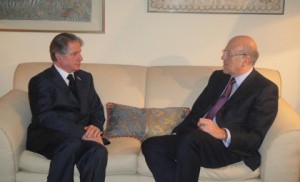 Former Lebanese president and current Phalange Party leader Amin Gemayel said after meeting with Prime Minister-designate Najib Mikati on Friday, that his party's goal is "is not to secure a particular ministerial portfolio but to preserve the authority of the state and its instiutions" , National News Agency ( NNA) reported
"Our goal is to reinforce the state institutions and to stand against projects of countries that aim to weaken the Lebanese republic," said Gemayel
He added that his party calls for "the preservation of achievements, particularly national sovereignty, " which has cost the country , in reference to the maryrs
"What is the role of President Michel Suleiman if a one-sided cabinet is formed ? Where are the PM's powers?" asked Gemayel, adding that he is in constant contact with his allies in the March 14 coalition.
According to local reports the Phalange party is still waiting for clarifications from Mikati over the issues of the Special Tribunal for Lebanon (STL) and illegal weapons.
Mikati, backed Hezbollah and its March 8 allies including MPs Walid Jumblatt and Mohammad Safadi, was appointed by president Michel Suleiman as PM-designate to form and head the next cabinet , giving Hezbollah and its allies increased leverage in the country and provoking widespread protests.
The Iranian- and Syria-backed Hezbollah brought down Hariri's government on January 12 over the Special Tribunal for Lebanon's ( STL) indictment which is widely expected to implicate Hezbollah members in the assassination of former PM Rafik Hariri in 2005 .
Mikati held two days of talks with parliamentary groups on forming his government last week with the Hariri camp still refusing to join his administration.