Aoun launched another attack against Hariri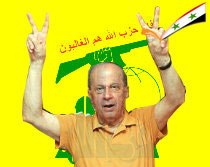 Change and Reform bloc leader MP Michel Aoun launched another attack against outgoing PM Saad Hariri on Friday accusing him of being a false witness, in reference to the Special Tribunal for Lebanon.
" Hariri is one of the false witnesses… and he should be questioned," said Aoun , who is Hezbollah's key Christian ally .
"We believe that fighting corruption starts from top to bottom," he told Russian TV, calling for holding those involved in managing the state's general fund accountable for the country's debt.
This comes after Aoun demanded earlier this week that whoever joins the new cabinet must be in agreement with the Hezbollah-led March 8 alliance.
Hezbollah hiding behind Aoun
Lebanon First bloc MP Atef Majdalani said during an interview late Wednesday evening with Future News , that the "government has already been formed by Hezbollah , which is trying to dominate the political scene through its spokesman MP Michel Aoun. "
Majdalani pointed out that "Hezbollah is hiding behind Aoun to avoid Sunni – Shiite sensitivities . "
Missing $35 million
Lebanon's Former MP Farid Haikal al-Khazen accused last March Aoun of being a liar and his son-in-law Gebran Bassil of being a thief .
The former MP was responding to Aoun's accusations over corruption
"You have no right to ask us about anything, especially as you have not clarified the issue of the $35-million you took from the Treasury 15 years ago, before leaving for exile in France," Khazen said,stressing that Aoun is just a thief who robbed the state ".
The former MP also challenged Aoun to disclose all of his and his family's bank account information, including those of their offshore accounts.
Mikati
The Iranian and Syria-backed Hezbollah brought down Hariri's government on January 12 over the Special Tribunal for Lebanon's (STL) indictment which is widely expected to implicate Hezbollah members in the assassination of former PM Rafik Hariri in 2005 .
MP Najib Mikati, backed Hezbollah and its March 8 allies including MPs Walid Jumblatt and Mohammad Safadi , was appointed last Tuesday by president Michel Suleiman as PM-designate to form and head the next cabinet , giving Hezbollah and its allies increased leverage in the country and provoking widespread protests.
The March 14 alliance is demanding that Mikati, a political moderate with good ties to Syria, guarantee he will not disavow the tribunal.