More than 100 protesters ,mostly Egyptians living in Lebanon briefly, clashed with the Lebanese riot police outside the Egyptian embassy in Beirut on Thursday after they tried to break through the security cordon around the diplomatic mission, a security official said.
"Police intervened to push back the demonstrators after they tried to break through the barbed wire in order to enter the embassy," the official said adding that no one was arrested or injured during the clashes that lasted about 20 minutes.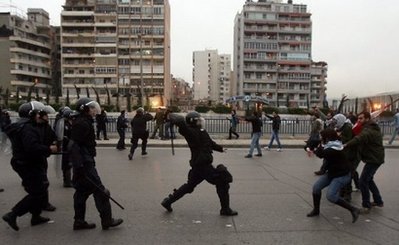 Army reinforcements were brought in and the barbed wire was put back in place after the clashes.
Last Saturday several hundred protesters gathered in front of the Egyptian embassy in Beirut to express their support for the Egyptian protest movement as President Hosni Mubarak appointed his intelligence chief vice president in an effort to quell the civil unrest sweeping the country.
"The people want the regime to fall!" the protesters in Beirut shouted, echoing the chant that has become the rallying cry of the Egyptian revolt.
Top picture: An Egyptian man shouts slogans against Egyptian President Hosni Mubarak during a protest to show solidarity with protesters in Egypt, outside the Egyptian embassy in Beirut, Lebanon, Tuesday, Feb. 1, 2011. (AP Photo/Grace Kassab)
This error message is only visible to WordPress admins
Error: No connected account.
Please go to the Instagram Feed settings page to connect an account.