Mubarak: I never intended to be a candidate for another term
Egypt's embattled President Hosni Mubarak, today announced he will stay through his term but will not run when the elections are held in the next few months.
"In all honesty I never intended to be a candidate for another term", he said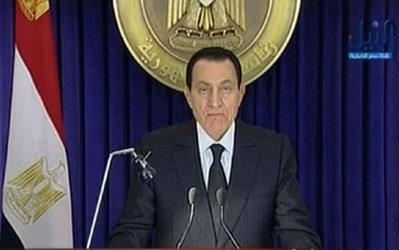 "My first responsibility is to restore the security and stability of the homeland, to achieve a peaceful transition of power in a way that will protect Egypt and Egyptians and that will allow for responsibility to be given to whomever the people elect in the forthcoming elections," Mubarak said in a speech broadcast on state TV.
A stoic Mubarak announced that he will ask the new government to speed up elections, which are scheduled to be held in September. He vowed to fulfill people's demands, to protect the citizens honestly, and end corruption.
Striking a patriotic tone and emphasizing his military background, the 82-year-old, who has held on to power for 30 years, defended his own record and suggested he won't leave the country even when he steps down from power.
"I never wanted power or prestige, and people know the difficult circumstances in which I shouldered responsibility," Mubarak said. "History will judge me."
Crowds jammed shoulder-to-shoulder in Tahrir, or Liberation, Square, in Cairo cheered loudly as Mubarak made his announcement. But while the mood was jubilant and one of happiness, Mubarak's message wasn't enough as protestors shouted "Go now! Go! Go!" Demonstrators, now in their eight straight day of protests, vowed to stay in the square until Mubarak leaves.
Mubarak made his announcement just hours after President Obama's special envoy suggested to Egypt's embattled president that he not run for re-election.
Frank Wisner, a retired U.S. ambassador to Egypt, was sent by Obama S to deliver a message from the White House about how to best prepare for an "orderly transition," an administration source told ABC News earlier today.
Wisner, who served as U.S. ambassador to Egypt for presidents Ronald Reagan and George H.W. Bush, is known to have a close relationship with Mubarak and top Egyptian government officials. The former diplomat had only one meeting today, with Mubarak, and is already on his way home.
U.S. ambassador to Egypt, Margaret Scobey, spoke on the phone earlier today with Mohamed ElBaradei, the leading opposition figure in Egypt, marking the first time any U.S. official has spoken to the Nobel laureate since he returned to the country last Thursday.
"Our embassy in Cairo maintains an active outreach to a wide range of political and civil society reps in Cairo, and the mission has been especially busy in the last several days to help convey our strong support for orderly transition," a spokesman for the embassy told ABC News. "One such contact was between the ambassador and Mohammad ElBaradei today."
It is significant to note that the official face of the United States talked to ElBaradei while the unofficial special message-deliverer is talking with Mubarak.
Thousands of anti-government demonstrators streamed into Cairo's central square for the largest day of protests yet, as the Egyptian army, deployed to enforce security and maintain security, avoided any confrontation with the joyous crowds.
Despite curfews, road closures and cancelled train and bus service, people of all ages and genders gathered in Tahrir Square, beginning Monday night, to once again call for the ouster of President Hosni Mubarak. Many came prepared for the worst.
"I have a plastic sheet for the water cannon, a towel for my face. And I got my will written yesterday," one man told ABC News. "If I die, I die."
The ripples of the Egyptian uprising, which began with protests in Tunisia that forced the end of President Zine el-Abidine Ben Ali's 28-year reign, are being felt throughout the Arab world.
Jordan's King Abdullah sacked his government today amid protests that were directed mainly at prime minister Samir Rifai. The new Jordanian government will be tasked with bolstering democracy and "taking practical, swift, and tangible steps to launch a real political reform process, in line with the King's vision of comprehensive reform, modernization and development," according to Jordanian news agency, Petra.
After Egypt, Jordan is United States' second biggest ally in the region and only the second Arab country to recognize Israel.
The cabinet of the Palestinian Authority in the West Bank said today it will hold municipal elections "as soon as possible." And in Gaza, which is run by the Islamic group Hamas, demonstrators sympathetic to the Egyptian cause were arrested, according to the Associated Press.
In Egypt, there were no signs of the uprising dissipating. Military helicopters circled overhead in Cairo's main square as the crowd chanted "Leave! Leave! Leave!" to Mubarak. The gathering, which was called by opposition groups on Monday, was mostly peaceful.
View images of the uprising in Egypt and how it all came about.
Today's show of opposition to Mubarak was billed as a million-person march. While it wasn't clear whether organizers had reached their goal or exceeded it — Al Jazeera television estimated the crowd at 2 million — that crowd was the largest to take to Cairo's streets since the protests began eight days ago.
The presidential palace was surrounded by barbed wire amid concerns that the crowds would march from Tahrir square to Mubarak's Cairo residence. Opposition groups initially called on protesters to march to the presidential palace, but several leaders, including leading opposition figure Muhammed ElBaradei, told demonstrators to hold the square.
Despite the enthusiasm among those in the massive crowds of demonstrators, there are people in this country of 80 million who are terrified at the prospect of losing the only president they have ever known, and afraid of seeing their country sinking into chaos.
A small group of pro-Mubarak supporters stood on the sidelines, dwarfed by the throngs that came to protest against the president who has been in power for 30 years.
Practically pinned against a wall, these small groups of supporters chanted his name and waved Mubarak's posters, some practically weeping as they kissed his face imprinted on a t-shirt.
In a warning sign to Mubarak that he may be losing the support of his own armed forces, the military — in charge of managing the peace in Tahrir Square — did little to quell demonstrators. In fact, the army cautioned against people who might be wearing military uniforms, but are not official soldiers, that may use force against protesters.
Mubarak appointed a new cabinet Monday in charge of initiating dialogue with various political parties, but opposition groups say they won't negotiate until Mubarak steps down, according to reports on Al Arabiya TV.
The opposition groups range from youth groups with online savvy, old-school opposition politicians and the Muslim Brotherhood.
ElBaradei, a Nobel Laureate and former head of the International Atomic Energy Agency, has emerged as a high-profile leader of one opposition movement. He has said Mubarak must step down to ensure the safety of Egyptians.
"First step, he has to go. Second step, we have to have a government of national salvation, in coordination with the army… Then, we prepare for a free and fair election, a new constitution and then move on to democracy," ElBaradei said Sunday on "This Week with Christiane Amanpour."
As momentum builds up in Egypt, hundreds of foreigners, including Americans, convened at the airport in Cairo, waiting to be shuttled out.
The U.S. State Department today ordered its non-essential personnel out of the country. Previously, departures were voluntary.
A total of four flights chartered by the U.S. government left Cairo today, after nine flights Monday to Cyprus, Greece and Turkey evacuated more than 1,200 Americans. About 1,600 U.S. citizens and their family members have been evacuated since flights began yesterday
As of Sunday, there were 380 officials at the U.S. Embassy in Cairo, though the State Department wouldn't say how many are considered non-essential. There were 760 dependents.
There are 50,000 Americans throughout Egypt. The State Department has so far received requests to help evacuate 3,000 Americans, majority of whom are in Cairo. But requests have also come from other cities including Alexandria, Luxor and Aswan.
The situation in Egypt is particularly alarming to the United States. Egypt is one of United States' closest allies in the Middle East. It is only one of two Arab countries that recognizes Israel and has helped broker key peace deals. Mubarak's government has also been a close U.S. ally in the fight against terrorism. Egypt is also home to the Suez Canal, and any instability in the region could be gravely dangerous to U.S. interests in the region.
In another clear sign that the Arab leadership is nervous of a mass uprising in their own backyards, Syrian President Bashar al-Assad, whose party has held on to power for four decades, told the Wall Street Journal that he will push for more political reforms in his country.
Fearing similar uprisings, the Arab world has stepped up pressure on Mubarak to resign. The Turkish prime minister became the first international leader to call on Mubarak to hold elections, saying it would be the only solution to the current crisis.
The Egyptian economy has come to a virtual standstill since the protests began a week ago. Banks and the stock market remain closed.
The turbulent situation in Egypt has roiled world markets. Though the Suez Canal remains open, oil prices jumped Monday due to the unrest, and markets remain nervous about the future of the country.
Standard & Poor's on downgraded its rating on Egypt today, becoming the third international ratings agency this week to do so.
As many as 300 people may have been killed since protests began, with more than 3,000 injured and hundreds arrested, the UN High Commissioner for Human Rights said in a report today.
Amid the protests, looting and vandalism broke out over the week as police forces, known for being brutal in their counter-tactics, disappeared from the streets. Buildings were set on fire and vigilante groups were set up in various neighborhoods to keep looters from storming private homes.
Protesters say they don't feel like they have a voice and that they are tired of the decades of corruption and inequality under Mubarak's regime. They are angry and frustrated at the country's dire economic situation, high food prices, rising unemployment and decades of corruption and poverty.
Nearly half of Egypt's 80 million people live under or just above the poverty line set by the World Bank at $2 a day.
Demonstrations were sparked by calls on social media to gather and protest. The internet, a prime form of communication, remained blacked out. But Google and Twitter stepped in to fill the gap, creating a "Speak for Tweet" especialy for Egyptians, which turns voicemails into tweets. ABC