Google executive reported missing in Egypt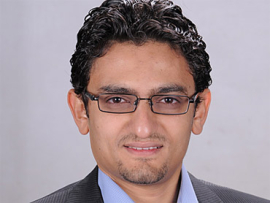 Google's head of marketing for the Middle East and North Africa has been missing in Egypt since last week, according to multiple news outlets.
Wael Ghonim, who has headed the company's marketing in the region since January 2010 , has not been seen for several days as protests continue to swell in Egypt, according to the Los Angeles Times.
The Times reports that Ghonim was a guest speaker at an Al Jazeera forum in Januray and that the news agency had been contacted by Ghonim's family and friends.
"His wife is appealing for any information on his whereabouts," said an Al Jazeera blog post on its English website.
Google declined to confirm to the Times if Ghonim was in fact missing. A spokeswoman told the newspaper: "We care deeply about the safety of our employees, but to protect their privacy, we don't comment on the individually."
According to the Times, Ghonim posted several messages on his Twitter account that indicated he was participating in the protests. Among the messages:
– "Despite all the warnings I got from my relative and friends, I'll be there on #Jan25 protests. Anyone going to be in Gam'et Dewal protest?"
– "Egypt after #Jan25 is no way going to be the same as Egypt before it. Today we proved so many points."
– "Heading to Tahrir square now. Sleeping on the streets of Cairo, trying to feel the pain of millions of my fellow Egyptians. #Jan25"
According to the Times, supportive words for Egyptian opposition figure Mohamed ElBaradei can be found on what appears to be Ghonim's Facebook page.
ElBaradei, a Nobel laureate, has taken center stage in the demonstrations against President Hosni Mubarak, who has been in power for three decades.