Geagea: my meeting with Mikati was direct and frank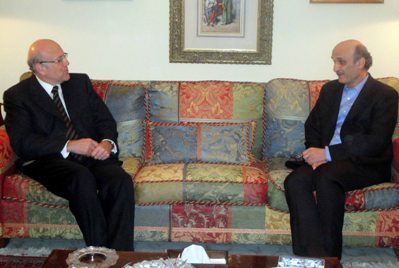 Lebanese Forces leader Samir Geagea said during a press conference in Maarab on Tuesday that his meeting with Prime Minister-designate Najib Mikati at his residence in Verdun on Monday was "direct and frank."
The March 14 forces had tasked Geagea with negotiating with Mikati over the key issues
Arms
"I addressed the issue of illegitimate arms with Mikati and told him that March 8 means a Hezbollah and Syrian takeover. We have fears that real corruption will spread," Geagea said.
"They (The Hezbolllah led March 8 ) will not be able to drag Lebanon to where it was before 2005 because we will confront them to prevent them from doing so," Geagea added.
"There should be a clear vision on how to get rid of illegitimate weapons," he told reporters. "Even if the arms are in depots, they are affecting political life and spoiling it."
New Governmnet
Commenting on the possible participation by March 14 in the new cabinet he said, "either all of the March 14 parties participate or no one does," adding March 14 is united on this issue.
Geagea stressed that "until now, there are no serious suggestions to consider participating in the cabinet," adding, "the March 8 alliance does not want a national-unity cabinet."
He also stressed that the talks that are being being held with Mikati came after the March 14 alliance agreed on holding them.
Geagea also told reporters that there were no clear suggestions on the cabinet formation during his meeting with the PM-designate.
Geagea told reporters that he informed Mikati during their meeting that the March 14 alliance has no problem with him as a person.
STL
Commenting on the tribunal Geagea said:
"I also told Mikati that the Special Tribunal for Lebanon (STL) was consensually approved during national-dialogue sessions. Thus, making decisions that contradict this consensus on issues pertaining to the STL requires national consensus."
"Mikati tried to reassure us and told me that he aims to achieve consensus." He said
Geagea said he would give Mikati some time to think over the proposals made by him and by Phalange party leader Amin Gemayel, another key March 14 official, who has held at least two meetings with Mikati in the past three days.
An Nahar daily said Tuesday that the Geagea-Mikati meeting on Monday lasted two hours and the LF leader stayed over for dinner.
The Iranian and Syria-backed Hezbollah brought down Hariri's government on January 12 over the Special Tribunal for Lebanon's (STL) indictment which is widely expected to implicate Hezbollah members in the assassination of former PM Rafik Hariri in 2005 .
MP Najib Mikati, backed Hezbollah and its March 8 allies including Jumblatt , was appointed last Tuesday by president Michel Suleiman as PM-designate to form and head the next cabinet , giving Hezbollah and its allies increased leverage in the country and provoking widespread protests.
The March 14 alliance is demanding that Mikati, a political moderate with good ties to Syria, guarantee he will not disavow the tribunal.