Egypt goes dark as last Internet company pulls the plug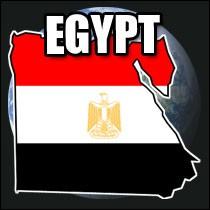 Four days after the Egyptian government ordered Internet service providers to disconnect from the Internet, the country's last working Internet company has abruptly vanished from cyberspace.
Noor Group, a small service provider that hosted Internet connections for the country's stock exchange and other businesses, became completely unreachable at around 10:46 p.m. Cairo time (Eastern European Time), according to Earl Zmijewski, general manager with Internet monitoring company Renesys.
"It looks like they're completely lights-out now," he said in an interview.
Renesys operates a network monitoring system that can track how connected Egypt is to the rest of the Internet. Before it disappeared, Noor was the last company running data in and out of the country, Zmijewski said. Now e-mail, Web traffic and other Internet services are unable to reach any network in the country, he said.
Other Internet observers reported Noor's disappearance too on Monday.
Thought to handle only about 8 percent of the county's Internet connections, Noor had served as a critical lifeline to the country since the government had ordered service cut early Friday morning.
Nobody is sure how Noor was able to keep operating, even as larger ISPs such as Vodafone and Telecom Egypt voluntarily cut their Egyptian networks off from the rest of the world.
As protesters in Egypt continue to march in the streets, the government has apparently ordered the country cut off from the Internet in an effort to prevent information from getting in or out of the country. Protesters had been using social media sites such as Facebook and Twitter to organize themselves.
Even with the Internet restrictions, Egyptians had been finding ways to connect with the outside world. After being cut off late last week, mobile-phone service is now working again. And landline telephone service has been operational throughout the crisis.